Nepali alu ko achar is an easy to make Nepalese recipe using boiled potatoes. It is like a quick snack or one can even have it at main course. 'Achar' typically means pickle and even though this dish is not a pickle, it tastes like one. The first time I tried this dish was in 2015, when we travelled to Nepal on a family holiday. We stayed over at my friend Komal's place and her mother made this on one of the evenings. I fell in love with Nepali alu ko achar and took the recipe from her. Since then, every now and again, I make it at home for dinner.
Did you know that Pikturenama started for Nepal ? Here are some of the stories of Nepal which you cannot miss 
Nepali Alu ko Achar has several versions
Like most Indian dishes, Nepali alu ko achar is also made differently in different households. However, there are a few key ingredients which remain constant. It cannot be made without mustard oil, white sesame seeds and fenugreek or methi seeds. In fact, Nepali food is almost impossible without mustard oil and methi seeds. Mustard oil is their cooking medium and they use a lot of nigella seeds and fenugreek seeds for tempering. This was all a revelation for me when I went to Nepal. And perhaps that's the reason, we find Nepali food to comforting and close to the heart.
Some Nepali alu ko achar come with cucumbers in the end. Some use hing or asafoetida and some don't. I have even heard some adding radish to give it that pungent crunch. Very less water is used and the flavour comes from copious amounts of mustard oil. Mustard oil instantly elevates a dish and gives it a pungent kick. And you have to finish it off with a lot of chopped green chilies.
How to make Nepali alu ko achar
You will need boiled potatoes for making this. Cut the potatoes into small cubes. Cut some cucumber into small cubes. Roast white sesame seeds and grind it to a coarse powder. In a kadai, take mustard oil and when it is hot, add methi seeds for tempering. Then you have to add some chopped green chilies and lightly stir. In that oil, you have to add coriander powder, cumin powder, turmeric powder and salt. Reduce the temperature and cook the spices. Sprinkle some water with your hand. Then add the sesame seed powder and it instantly thickens in the mustard oil. Add a little bit more of mustard oil from the side if you wish to or add half a cup of water. Add salt and then finally the potatoes. Stir them around to coat all potatoes with the spices. Finally add cucumber, lemon juice, more green chilies and some chopped coriander leaves for garnish.
For Professional Food Photography contact us
A few cooking tips
Most important bit is to not overcook the potatoes. It is better to not pressure cook and boil the potatoes. Instead, boil them in water with a little bit of salt, till they are soft but are hard enough to be cut nicely with a knife.

Good quality mustard oil is also absolutely essential. You cannot make alu ko achar without mustard oil.

You also have to roast white sesame seeds and then grind them. However, it needs to be ground coarsely and not a smooth fine powder.

Use of cucumber is completely optional.
Serving Suggestions
It is best to serve alu ko achar straight from the pan. As it cools down, the sesame seeds thicken with the potatoes and it becomes dry. In that case, you have to reheat it with a sprinkle of water and some extra mustard oil. You can always use mustard oil on top like extra virgin olive oil. It tastes even better. Serve Nepali alu ko achar with rice, roti, puri or even sel roti.
In case you love Alu – how about checking out these recipes ?
Share your views / Follow us
Do try this recipe and share your feedback. You can reach out to us at our social media handles: Instagram, Facebook or any of our personal Facebook (Madhushree and Anindya) and twitter profiles. Post a picture and tag us.
Pin this for your recipe board? You can follow us on Pikturenama recipes for more recipe ideas (Link)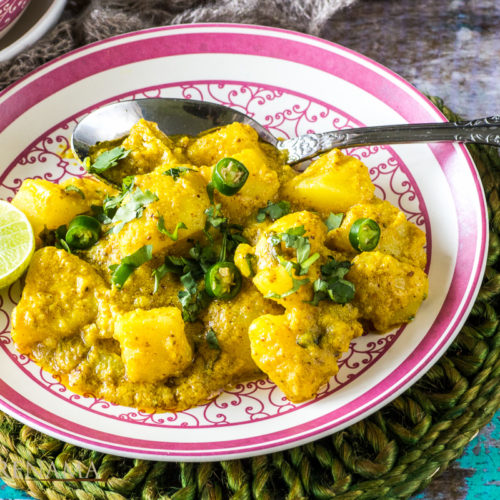 Nepali Alu ko Achar
Nepali alu ko achar is a quick and easy Nepali dish made with boiled potatoes and white sesame seeds. It is flavourful and is a great snack and main course.
Ingredients
4

nos

large sized potatoes

1/2

cup

white sesame seeds

20

nos

fenugreek seeds

methi seeds

1/2

cup

mustard oil

1 1/2

tsp

coriander powder

1

tsp

cumin powder

1

tsp

turmeric powder

4

nos

green chilies

pinch of hing

asafoetida (optional)

1

cup

chopped cucumber

1

no

small lemon

handful of coriander leaves

salt for seasoning
Instructions
Wash the potatoes and cut them into halves. Put them in a saucepan of boiling water with a little bit of salt. Let it boil till the potatoes have become soft yet firm.

Take them out and peel the skin. Cut them into smaller cubes and keep aside.

Roast sesame seeds till they have a slight colour and grind them into a coarse powder and keep aside.

In a frying pan or kadai, pour the mustard oil (keeping aside 1 tbsp) and when the oil is hot, add fenugreek seeds.

Let the seeds get some colour and release aroma. At that point, add 2 nos chopped green chilies. Stir them around and then add turmeric powder, cumin powder and corinder powder.

Add some salt and stir everything. Sprinkle some water to prevent the spices from burning up and keep the temperature medium to low.

When the raw smell of the turmeric powder goes off, add the hing and then the sesame powder.

It instantly becomes a lump, so add a little bit of water to make it smooth. Then add the potatoes and coat the potatoes in all the spices.

Add that one tbsp of mustard oil and very little water (0nly if required).

Add cucumber and check the seasoning. Squeeze in lemon juice to your taste.

Then finish it with more split green chilies and chopped coriander leaves.

Serve hot with rice or roti, sel roti or even poori.