Very rarely we get confused over a dish and what to name it. We initially thought of calling this bhapa chorchori but then after a discussion with Pritha Sen, the eminent food researcher, it was clear that it can be called anything but chorchori. In Pritha di's words – "a detailed chorchori would entail frying each vegetable seperately and then mixing and then frying on medium high heat till all are cooked and oil is released. It is not something that is sheddho sheddho (boiled and soft) .
How was the Niramish Paturi made then? 
Mixed winter vegetables were slightly sauteed with tempered panch phoron and sorshe narkol bata (mustard cococnut paste)  and then steamed in kola pata with mustard oil drizzled over it? Can we call it bhapa torkari? The discussion went on and finally I was grateful to name this Niramish Paturi.
A melange of vegetables wrapped in banana leaf – Niramish Paturi 
Be it Ilish macher Paturi or Patrani Machhi, anything that comes wrapped in leaves has a certain amount of surprise and a DIY involved in slowly unwrapping the parcel, gets a little messy too but what fun. In recent times, meat Lamprais, which has been introduced in Cal 27 Taj Bengal as a signature dish from Taj Samudra Colombo, was impressive and had so many elements involved in it.  Yellow rice, chicken curry, crumb fried fish balls, a deep fried boiled egg along with egg plant, soft cooked raw bananas with caramelised onions makes it is delightful jumble of flavours. The entire package is packed in banana leaf and steamed.
Have you read about Cal 27 ? Read it here 
What is there in Niramish Paturi ? 
Flavourful winter vegetables like raddish, broad beans, brinjals, spring onions plus the regular potatoes, pumpkin and ridge gourd, wrapped in a leaf with mustard and coconut paste and mustard oil drizzled from top, makes it a pint size dynamo of taste, waiting to explode. A person like me, who is not a vegetable fan also can get drawn to a dish like this. Till such time the winter lasts – why not try this out?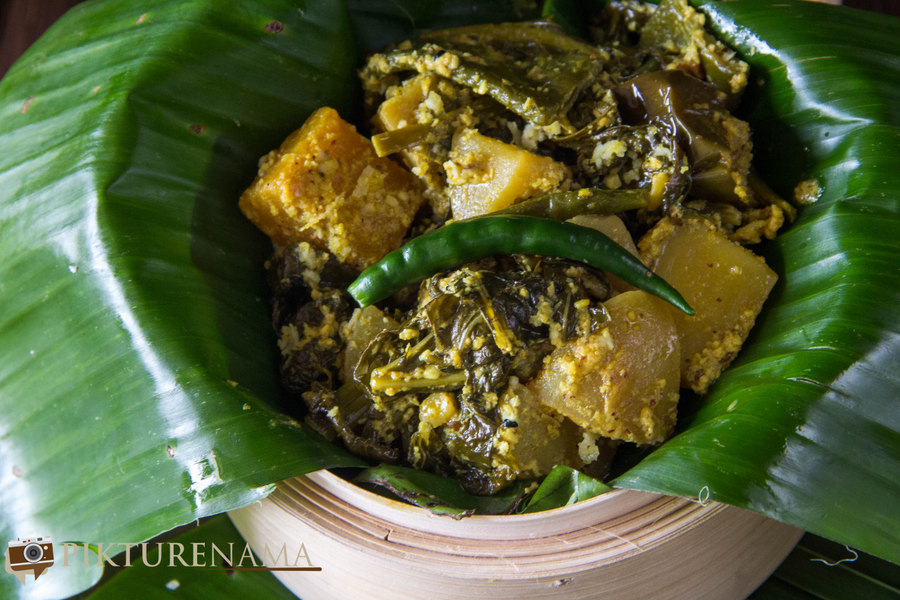 Niramish Paturi
A medley of vegetables tempered with spices and steamed in a banana leaf. Recipe Author: Madhushree
Ingredients
100

gms

pumpkin

100

gms

broad beans

100

gms

ridge gourd

150

gms

brinjals

50

gms

raddish

150

gms

potatoes

1

small bunch

Spring Onion

1

tsp

Panch Phoron

Panch Phoron is a typical Bengali tempering whole spice mix consisting of equal portion of nigella seeds (kala jeera), fennel seeds (saunf), black mustard seeds (sarson), cumin seeds (jeera) and little less than half the quantity of fenugreek seeds (methi).

6

nos

green chilies

2

tbsp

Mustard Paste

Bengalis recipes typicaly use black mustard or yellow mustard paste

2

tbsp

grated coconut

1/2

tsp

Turmeric Powder

1/2

tsp

Sugar

2

tbsp

Mustard Oil

Salt To Taste

1 or 2

nos

Banana leaf
Instructions
Cut all the vegetables into equal sized cubes. Cut the sping onions into inch size pieces.

Bring together the mustard paste, grated coconut and a little bit of water into a thick paste (preferably in a grinder or mortar and pestle)

In a frying pan, hea 1/2 tbsp of mustard oil. Whene the the oil starts to smoke, reduce the temperature to medium and add panch phoron and 1 green chili. Let the spices temper.

Then add the potatoes and stir to coat the spices around. Sprinkle some salt and add the turmeric powder.

After 3 - 4 minutes, add the raddish and the ridge gourd. Mix them all up and then cover and cook over low temperature.

After another 6- 8 minutes, add the broad beans, pumpkin and brinjals. If you prefer, you can fry the brinjals separately add add them towards the end.

Cover and cook the vegetables in its own juice. When all the vegetables are almost cooked, add the spirng onions, the mustard and coconut paste.

What we need is for the potatoes to be almost done and the rest of the vegetables half way done.

Add sugar and check the seasoning. Add more salt if required.

Turn off the heat.

Take the banana leaves and heat over a flame to make it soft without burning the leaf. Cut the leaves into five equal parts (if you want you can make more or less parcels).

Now divide the vegetable mixture on the banana leaves. On each portion, place one green chili. Drizzle a little bit of mustard oil on top. You can skip the mustard oil if you wish to.

Make small parcels and seal them using strings or toothpicks.

Finally place these parcels in a steamer and steam for 20 minutes.

Serve them hot with steamed rice.