It is almost two months since the lockdown. I have been thinking about those countless Hollywood movies, where the protagonist is recording last messages to pass on to whoever is the survivor. So grim! Though I must admit that these thoughts are just momentary lapses from my rather calm and positive self. Keeping myself busy, in whatever way I can, if keeping me sane. One of them is creating good food for the children and the rest of the family. Afterall, food is something that makes everyone happy. So, even though oatmeal is not much preferred by anyone, this oatmeal risotto with some cauliflower and chicken thrown in was accepted with happy hungry hearts.
Both Tugga and I have been craving for some mushroom risotto. I couldn't possibly buy the correct rice for a risotto during lockdown. It would have been like finding diamonds in a coal mine. And then we are a rice eating family. I was looking for a change and yet keeping it simple and preferably a one pot meal. My memory took me back to our Pune days, when it was just the both of us. We were young and spent a lot of time watching movies, going out for dinners, going to cinema halls etc. During those days, I would resort to a lot of quick fixes and this oatmeal risotto was one such from those days. 
Oatmeal Risotto is a freestyle dish
Feel free to make it any way you want. The minute you get the process, you can improvise to your taste. Especially now that you may run out of certain vegetables, don't be afraid. Make them with whatever you have. Potatoes, bell peppers, capsicum, carrots, broccoli, mushroom, chicken, sausages, bacon, ham, anything would do. You can make them with steel cut oats or instant oats. The best part of course is that it is quite a healthy recipe.
For Professional Food Photography contact us
This is a Quick Savoury Oats recipe
Depending on what kind of vegetables you have, this takes about 15 to 20 minutes to cook. If you are making with mushrooms only, this is a breeze. Takes all of 15 minutes. This oatmeal risotto is with cauliflower and chicken. I have used chicken breast. Hence the cooking time of chicken is not too much. There are some baby potatoes with the skin on for some added texture. The cauliflowers are almost creamy with the oats and there is enough cheese and garlic for the ultimate risotto taste. 
Few tips to make the perfect oatmeal risotto
If you are using boneless chicken, add it after you cook the vegetables. Boneless chicken takes less time to cook.

Chicken stock makes for a great oatmeal risotto. But if you don't have, use warm water or add any seasoning to water. 

You can also add a couple of tablespoons of your favourite soup powder to water and add to the risotto.

Keep a relatively thin consistency when done. Oats thicken as it cools down.

Cook the vegetables only about 80 percent before adding the oats. The rest gets cooked along with the oatmeal.

Get creative with your topping. Don't skip that part.
Serving and Storing Suggestions
It is best to serve immediately with a topping of your choice. If you are serving later, then you will have to add little warm water before heating in the microwave. Add the topping only when you serve. Keep a sauce and a crunchy factor. You can store cooked oatmeal risotto for two days in the refrigerator. You can portion and freeze it for upto a month.
Here is the video of how to make the Oatmeal Risotto –
You can check our youtube channel for some more cooking videos . Please show some love there.
Do try this recipe and share your feedback. You can reach out to us at our social media handles: Instagram, Facebook or any of our personal Facebook (Madhushree and Anindya) and twitter profiles. Post a picture and tag us.
Pin this for your recipe board ? You can follow us on Pikturenama recipes for more recipe ideas (Link)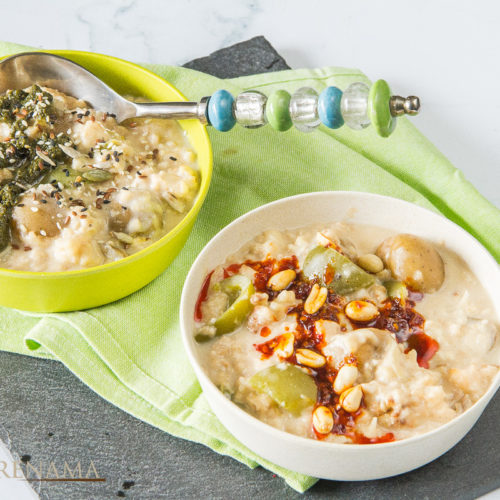 Oatmeal Risotto with Cauliflower and Chicken
A healthy and freestyle oatmeal risotto with vegetables and chicken. It is creamy and tasty and is a one pot wonder.
Ingredients
1

no

medium sized cauliflower

1

no

chicken breast

5- 6

nos

baby potatoes

see notes

1/2

capsicum

8- 10

nos

garlic cloves

1 3/4

cup

instant oats

1

no

onion

2

cups

chicken stock

optional, see notes

2

tsp

olive oil

1/2

cup

grated cheese

salt to taste
Toppings
2

tsp

basil pesto

1

tsp

mixed roasted seeds

2

tsp

chili oil

1

tbsp

roasted peanuts
Instructions
Wash the potatoes thoroughly and cut them intohalves. If you don't have baby potatoes, use regular potatoes and cut them intosmall cubes but don't peel the skin.

Cut the cauliflower into small florets (the same size at the potatoes). Chop the onions and the garlic. Chop the chicken breast into bite sized pieces. Cut the capsicum or any bell pepper that you have into small cubes.

Heat oil in a kadai or a heavy bottomed saucepan and add the chopped onions and then the garlic. Stir fry till the onions have softened.

Then add the cauliflower and the potatoes and on high heat, stir fry for two minutes. Add salt and reduce the heat and cover and cook till they are half cooked.

Then add the chicken and the capsicum and again stir on high heat.

Over medium heat, cook the chicken with the vegetables. If needed, cover once again and let the potatoes have almost cooked but firm.

At that point, add the oats and mix everything together. Then add chicken stock. If you don't have chicken stock, add equal quantity of water. You could also add a tbsp of any soup powder that you have with the water.

Add as much water as is required to cover the chicken and the vegetables and on medium heat, let the oats cook with the stock.

Once the oats has become soft and the consistency is like a porridge, add the grated cheese and give it a good stir. Adjust your seasoning.

Serve the oats bowl immediately. Add toppings of your choice as mentioned above.
Notes
You can make this with regular size potatoes. Just cut them into quarters. You can peel the skin or leave it on as per your choice. 
If you don't have chicken stock, just add warm water. You can also add a couple of tbsp of soup powder to water and add to the oats.