It was a balmy summer day. The kids had just returned from school. It was one of those days when all you wanted to do was get lazy, switch on the ac and binge on OTT. Once Brishti is back home, she spends half an hour trying to tell us all about her school. Between her talks and gymnastics, that's also a good break for us daily while working. And then we knew we had to get on with our content creation. And that day, we had planned on shooting shorshe chalkumro.
I don't know if I had mentioned it before, but we Bengalis are just too particular about the way we cut our vegetables. Each recipe has a different cut of potatoes or any other vegetable used. And we have funny ways of naming them too. For example, jheeri jheeri means finely sliced lengthwise (like thin potato sticks). Dumo dumo means small cubes. Similarly, I remember for this chal kumro (ash gourd) recipe, Ma used to cut it in a very unique manner with scoring on the sides. It is called 'anjiye nawa' pronounced as 'ajiye with a hint of 'n'.
Well, I was making a mess of the vegetable. Finally, I gave in and got into a video call with Ma. She explained how to do it exactly, while the team shot the video. I still couldn't perfect it, but it was a good effort. Anyway, for shorshe chalkumro, the mustard paste has to be very smooth. I like to grind the black mustard seeds using milk and mustard oil. It gives a beautiful richness to the paste and then strain it through a fine sieve. The entire family loved this one. Especially Tugga, who loves vegetables s and then shorshe literally runs through his veins.
Share your cooking with us
Are you following us on our youtube channel Cook with Pikturenama?
Do try this recipe and share your feedback. You can also reach out to us at our social media handles Instagram, Facebook or any of our personal Facebook (Madhushree & Anindya) & Twitter profiles. Please post a picture and tag us.
You can also check out our reel on Instagram –

You can also check out the Instagram handle of PIKTURENAMA STUDIOS if you want to give your culinary creations a voice.
Pin this for your recipe board. And you can follow us on Pikturenama recipes for more recipe ideas (Link)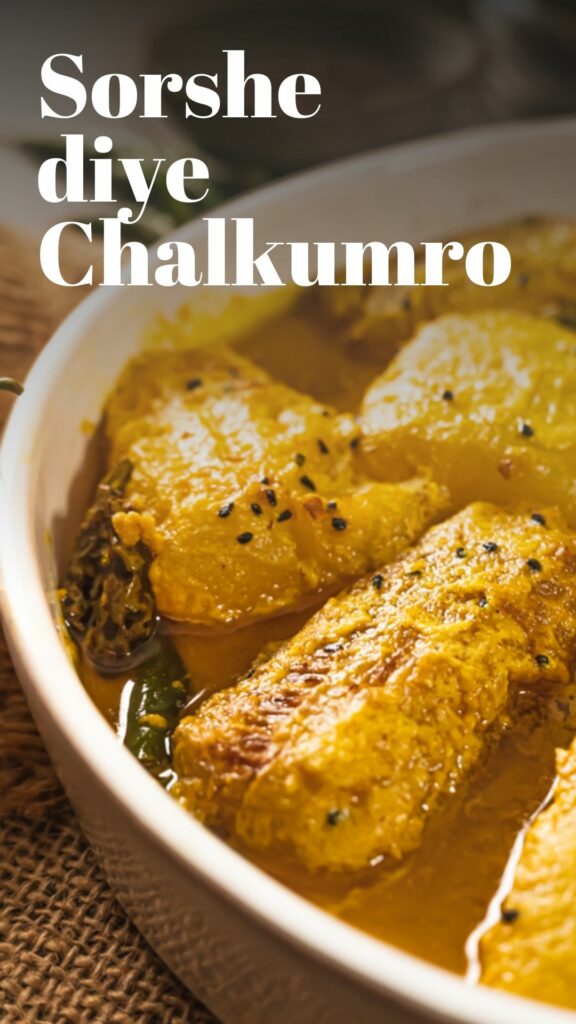 Shorshe Chalkumro | Ashgourd cooked in a Mustard Sauce
Ashgourd cooked in a smooth and rich mustard paste in this classic shorshe chalkumro
Ingredients
1

medium-sized

chalkumro or ashgourd

3

tbsp

black mustard paste

5-6

nos

green chillies

1 ½

tsp

turmeric powder

1 ½

tsp

sugar

3-4

tbsp

mustard oil

½

tsp

nigella seeds

salt to taste

1

cup

milk
Instructions
Cutone whole chal kumro (ash gourd) into 3-4 segments- 3 to 3.5 inches. Then cut into rectangles or quarters and then you have to use a peeler to remove the skin and then shape the pieces so that there aren't any sharp edges. After that, using a sharp knife, score the sides diagonally

Now add salt, ½ tsp of sugar and 1 tsp of turmeric powder to this. Rub it well and marinade and set aside for 15 mins.

Meanwhile make your mustard paste with 2-3 tbsp of black mustard seeds, salt, one green chili, and1 tbsp of mustard oil and use milk to grind instead of water. Once you have a smooth paste, strain this and set it aside.

In a frying pan or a flat-bottomed deep pan, heat 3 tbsp of mustard oil, add 2green chillies and ½ tsp of nigella seeds and then squeeze out excess liquid from each ash gourd pc and place in the pan.

Arrange them in such a way that each pc gets the heat. Keep the heat on medium and let one side brown and then flip and cook the other side.

Once you get a bit of colour, you can cover and let this cook.  Keep the heat on low when you cover and cook.

When the chalkumro has become soft and has a nice colour to them, add the mustard paste and on low heat, add 1 cup of warm milk. Stir this, add salt and ½ tsp of sugar, 2-3 slit green chillies and then cover and let this cook till the milk thickens.

You can drizzle some extra mustard oil on this. Once thickened, take it out on a pan and serve with rice.