This is the season for Taal, also known as a sugar palm. Not many communities in our country consume this or even know about it. It's a delicacy in Bengal during late monsoon and just before Janmashtami. And a whole lot of food is made using this unique fruit. From taler bora, to taal kheer, taal'er luchi, taaler pitha and so on.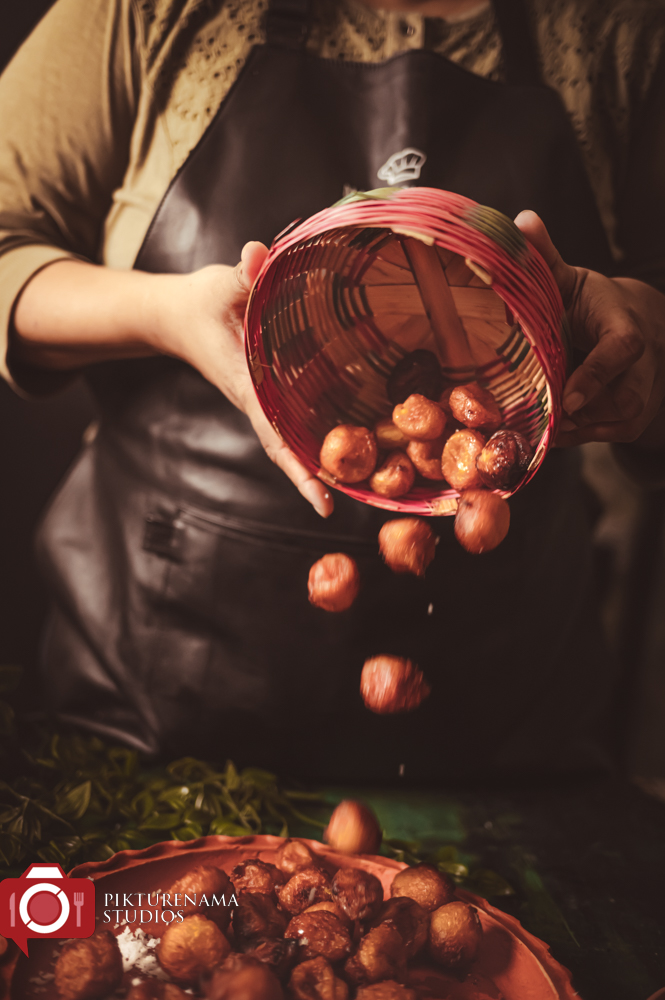 During the late monsoon, when Janmashtami is just around the corner, markets are flooded with this fruit called taal, which is sugar palm in English. A ripe sugar palm is deep brown in colour, almost the size of a tender coconut. It's easy to remove the crown, and the sweet aroma from the palm fills the house the minute you do it. It's almost irresistible. Grandmothers get busy making different delicacies from taal- it's almost like a pitha.
Taal'er bora, like so many other fried dumplings, has a crunchy exterior with a soft and airy inside. It's pretty tricky to make it as well. And often, things go wrong and you end up with dry and hard taler bora.
Few Tips to Make the Best Taler Bora
Make sure you have a ripe taal.
Once you remove the crown and take out the kernels, wet them with water before taking out the pulp.
The traditional method is to scrape the kernels on an overturned basket. However, the modern and best way to do it is to scrape it on a fine wire sieve. You can check out our YouTube video for better understanding.
This way, all the fibres are already discarded. Then you need to mix a pinch of slack lime with a little bit of water, mix it with the pulp and hang the pulp in a muslin cloth. Leave it for half an hour for the bitter liquid to drip out.
Use this pulp to make the batter. While making the batter, whisk it really well to make it airy.
Share your cooking with us
Are you following us on our YouTube channel Cook with Pikturenama?
Do try this recipe and share your feedback. You can also reach out to us at our social media handles Instagram, Facebook or any of our personal Facebook (Madhushree & Anindya) & Twitter profiles. Please post a picture and tag us.
Did you check out our reel for Taler Bora on Instagram?

You can also check out the Instagram handle of PIKTURENAMA STUDIOS if you want to give your culinary creations a voice.
Pin this for your recipe board. You can follow us on Pikturenama recipes for more recipe ideas (Link)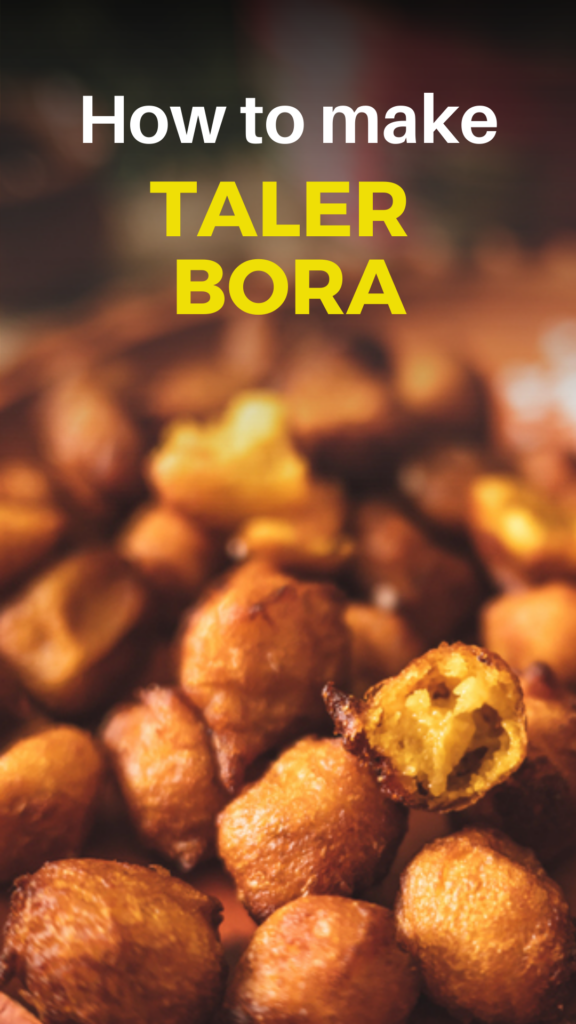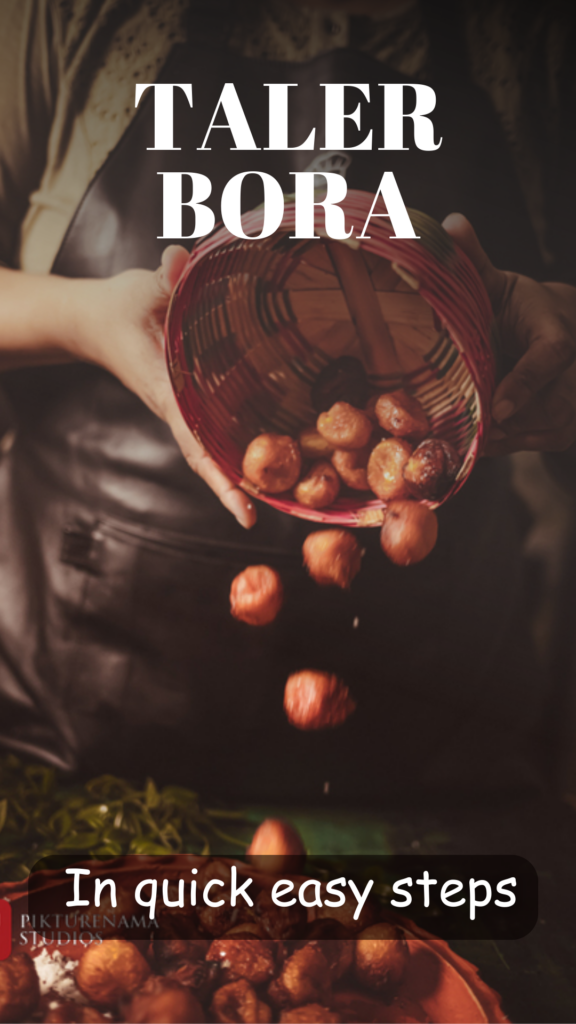 Taler Bora | Sugar Palm Fritters
Taler bora is a popular sugar palm fritters that is made during late monsoons in Bengali homes, especially for Janmashtami.
Ingredients
1

ripe

taal

-sweet palm

1

pinch

slack lime

-optional

¼

cup

maida

-all purpose flour

2-3

tbsp

rice flour

sugar or jaggery to taste

½

cup

grated coconut

-plus extra 2 tbsp
Instructions
You have to remove the crown from one big and ripe taal (sugar palm). Remove all the fibre and take the kernels out. There are usually 3 kernels inside the fruit. 

Now place these kernels in a bowl and splash water and rib them knead them to soften the pulp.

Take a large strainer and place it in a big mixing bowl. Alternatively, you can take an upturned basket. 

Rub each kernel on the strainer or the basket to remove the pulp. Keep splashing a little water if required. Once you have taken out the entire pulp (and if you have used a basket or a strainer with larger holes), you will need to strain this pulp once again to discard all the fibre. 

After this, mix a pinch of slack lime (chuna) with a little bit of water into the pulp. This ensures that there isn't any bitterness. Now this in a muslin cloth till the excess water drips out.

Mix this pulp with maida, rice flour, sugar or jaggery to taste (takes about 1/3rd cup) and half cup plus 2 tbsp of grated coconut. 

kes about 1/3rd cup) and half cup plus 2 tbsp of grated coconut. Give this a very good mix. This is an important step. The more you whisk, the airier and lighter your fritters will be.

The batter should be smooth and thick enough to pick with your fingers and drop in the oil. 

Heat oil and gently fry the fritters over medium heat till they are reddish brown in colour. 

Serve them immediately or you can even store them in an air-tight container for a couple of days.