Tiramisu is not a dessert I make often. I can actually count on my fingers and tell you how many times I made tiramisu in the last decade. However, each time, the recipe was different. And not that it was bad, or the recipe didn't work that I changed the recipe. It worked every time. There are a few keynotes for a good tiramisu and everything else can be adjusted as per your taste or want actually. 
The must-have ingredients for a good tiramisu
Mascarpone cheese – You cannot make tiramisu with any other cheese. It doesn't work. It doesn't taste the same. Cream cheese is too sour and salty. Feta cheese is crumbly and ricotta is a bit grainy. Although there are several recipes that will give you the combination of cream cheese and double cream or even ricotta, the taste is never a complete substitute 

Good quality espresso- It is after all a coffee-based dessert. So you cannot think of making tiramisu without espresso. Of course, you can skip the alcohol in the espresso if you like. 

Ladyfingers- These are Italian savoirdi or sponge fingers. These are sponge biscuits that are dipped in the espresso and then layered in the tiramisu. It's actually not very difficult to make them at home. There are plenty of recipes online. You can also buy ladyfingers online from amazon. Although it won't taste the same, you can use regular sponge cake instead of ladyfingers. Sponge cake becomes too soggy unless you bake it extra and make it a bit crispy before adding to the tiramisu 
                                                                  For Professional Food Photography contact us
Make your food the star of the show with Pikturenama Studios' expert photography services. BEHANCE
Every Italian family has its own recipe 
Before making the tiramisu for this post, I spoke to Silvia, my friend from Tuscany. I asked her for the best recipe for tiramisu. She came back to me saying that every family has its own recipe. Some use whole eggs, some use only the yolk. Some cook the yolk and some mix it raw. There are some, who use egg whites and cream, some use only egg whites. It really doesn't matter as long as you have the basics right. Most often, Italians make their tiramisu in a deep dish with a fluted top. And they don't really care about the perfect squares that you see in photos. The squares are mostly American. Italians like to dig into the bowl. 
I was watching a tiramisu video of Chef Antonio Carluccio, where he says 'brutti ma buoni'. It means- ugly but good. The name of the dessert comes from the Italian word meaning 'lift me up'. I reckon, they mean about the taste of the dessert and the texture, which is incredibly light. So, don't fret if you don't get a perfect square as you see in the photographs. As long as taste prevails, nothing else matters. 
Key points to remember
Bring mascarpone cheese to room temperature before making.

Don't over whisk mascarpone. Then it breaks down and starts to leave the water. In fact, the best way to whisk mascarpone is by using a regular hand whisk and not an electric one. 

If you stay in a warm climate, it is best to cook your egg yolks. If you can get hold of fresh eggs, then go ahead as whisk it without cooking. But in India, I wouldn't risk salmonella poisoning from eggs. 

While cooking the eggs with sugar, do it over a bain-marie. Make sure that the bottom of the bowl does not touch the water. Cook on medium heat to get a smooth custard. Be patient, it takes about 8 to 10 minutes depending on the size of the yolks. 

If you want a low-calorie tiramisu, don't use whipped cream. Whip the egg whites till there is no water left at the bottom and use that to fold in the custard 

Marsala is the best alcohol for espresso. However, you can also use any other coffee liquor of your choice. Kahlua is a good choice. Some use brandy or dark rum too. I have used a local coffee liquor that I had procured from Goa. 

Make sure that your espresso is at room temperature before you start dipping the sponge biscuits

Don't keep the sponge biscuits in the espresso for longer than 2 to 4 seconds. It soaks up liquid very fast and then will become soggy. 

Use a good quality cocoa powder with no added sugar to top the tiramisu. You could make it lush by mixing a bit of grated chocolate with cocoa too. 

Leave tiramisu in the refrigerator to set for over 8 hours, preferably overnight. Dust cocoa before serving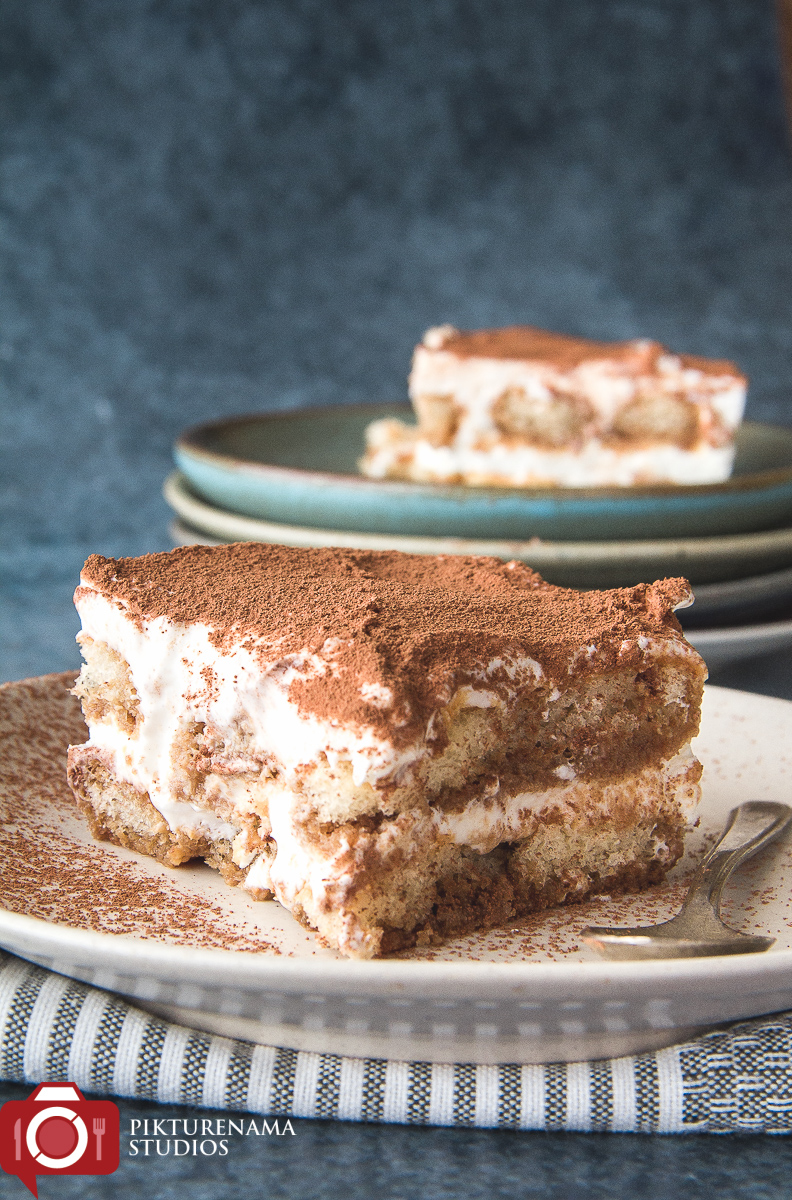 Storing tiramisu
Tiramisu can be stored in the refrigerator for up to 4 days if you have made it with eggs. Eggless ones will stay for a couple of more days I reckon. However, it becomes soggier as days go by. The best is to eat in a couple of days. 
P.S. – Sadly it was in 2021 that father of Tiramisu – Ado Campeol passed away at the age of 93. Campeol was the owner of Le Beccherie, a restaurant in Treviso in northern Italy where the famous dessert was concocted by his wife and a chef. You can read in details about him here. 
Here's another delicious Italian must-try dessert- Raspberry semifreddo. Don't go by the poorly taken photographs. It is one delicious dessert– Raspberry semifreddo
Do try this recipe and share your feedback. You can reach out to us at our social media handles Instagram, Facebook or any of our personal Facebook (Madhushree and Anindya) and Twitter profiles. Post a picture and tag us.
Pin this on your recipe board? You can find some awesome recipes at Pikturenama recipes in Pinterest
Tiramisu Recipe
The most decadent and easy to make dessert ever
Ingredients
300

gms

ladyfingers

sponge biscuits also known as savoirdi, approximately 36- 40 biscuits

350

gms

mascarpone cheese

3/4

cup

heavy whipping cream

4

egg yolks

2

large

cups of espresso

2-3

tbsp

any coffee liquor

optional

1/2

cup

sugar

2-3

tbsp

cocoa powder for dusting

1/2

tsp

vanilla extract
Instructions
Make 2 cups of strong espresso without any sugar and let it cool down completely

Meanwhile, separate the eggs and take only the yolks. You can use the egg whites for something else. Whisk the egg yolks gently and then add sugar and vanilla to it. Stir it using a whisk. Take a saucepan with boiling water and place the bowl of egg yolk over that.

The bottom of the bowl shouldn't touch the water. Using a whisk, keep stirring and cooking the eggs over the water bath. Basically cooking the eggs in steam from the bottom. Keep the temperature medium.

Continue cooking till the sugar has dissolved and the mix becomes thick, like a custard. Use a back of a spoon to check if the consistency is alright. You should be able to draw a clear line on the back of a spoon.

Take the custard off the heat and let t cool down for approximately 5 minutes. Add mascarpone cheese to the custard and with a simple hand whisk, mix it all up. No need for any electric whisk. Give it a nice smooth creamy consistency.

In another mixing bowl, whip up the double cream or whipping cream. Here, if you want, you can use only egg whites instead of cream.

Whip it up till you have hard peaks. Make sure there is no liquid at the bottom. Then slowly, add the whipped cream into the mascarpone custard base and fold gently. If using egg whites, use the same method.

Don't over mix or try to whip since it is light and airy and you don't want to knock out the air.

Take a 9 by 9-inch serving/baking tray. You can take a rectangular tray also.

Measure out the ladyfingers first by placing them in the tray and cut into halves if required for any area. You will need two layers of ladyfingers.

Pour the espresso on a flat wide bowl. Add coffee liquor of your choice into this.

One by one dip the ladyfingers into this espresso and make sure it has soaked in the liquid. Don't soak for more than 2 to 4 seconds or it will become soggy.

Place the ladyfingers at the bottom of the serving tray without leaving any gaps. This is your first layer.

Now spoon in a thick layer of mascarpone mix over this layer. Spread it using a spatula.

Make another layer using the ladyfingers over the mascarpone cream.

And finally, add another generous layer over this. If you have any leftover mascarpone or biscuits, take small cups and make tiramisu cups. I also like to serve the extra as de-constructed tiramisu.

Place this in the refrigerator to set for at least 8 hours and best is overnight.

Before serving, dust cocoa powder all over it, covering every bit of the top.

Cut into squares and serve chilled. If you don't want to cut out squares, you can scoop it out from the baking tray and eat.