This is an unprecedented time when our entire country in under lockdown to arrest the quick transmission of Covid_19 virus. While there is a lot of anxiety floating around, we all have to cook for us and our families in this situation. For some, it is the first time and for many of us, we are cooking new things, experimenting with whatever is there in our pantries and sharing recipes with the world. Since the time we are stuck at home, we are receiving numerous recipe requests, queries on cooking techniques as well as 'mystery box kitchen challenges' as a friend had pointed out. The recent trend, however shows, that eggplant has suddenly become the vegetable of the season. Everyone is cooking with and looking for eggplant recipes.
This one vegetable or fruit actually, has so many names and is popular worldwide. Here are our top 5 eggplant or brinjal or aubergine recipes, which are super easy to do.
Doi Begun- Eggplant in a yogurt sauce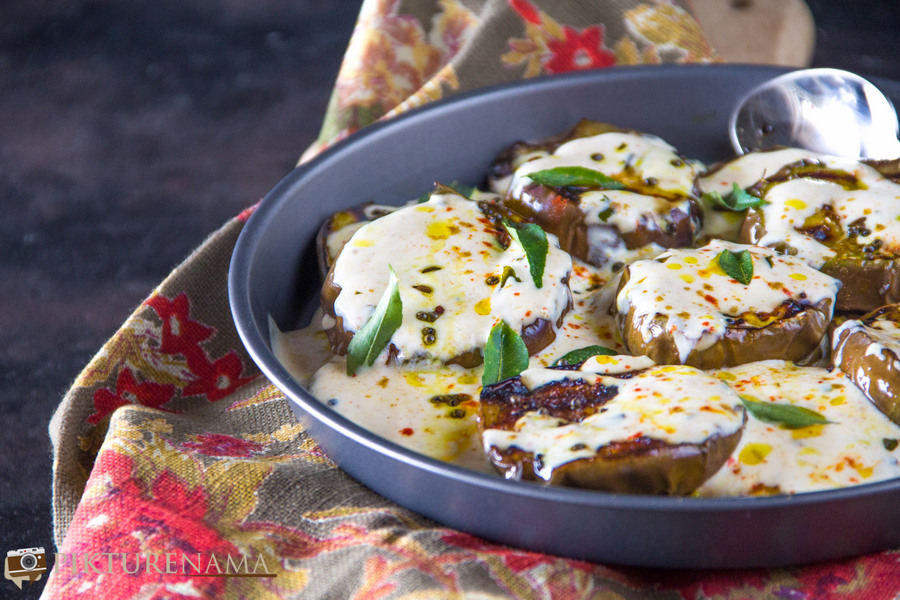 This is a Bengali classic dish, however, this version has more of an Oriya twist. The best part of this dish is that it is super easy and takes no time at all. Also, the number of ingredients required are also mostly kitchen essentials and are at a minimum. It tastes great with rice and since it has yogurt, it is a very cooling dish, good for summers. More 
Begun Bhaja- Eggplant fried Bengali way
This is a quintessential Bengali dish, loved by all. If there is nothing else to eat, cut up brinjals length wise or in rounds and fry them with salt and turmeric. Adults and kids are both known to love this dish. It can be served with rice, pulao, luchi, puri, paratha or even roti. No Bengali celebration is complete without some begun bhaja or beguni or eggplant fritters. Here is an easy way to make Begun Bhaja 
Begun Basanti- Eggplant cooked in a mustard and yogurt sauce
Bengalis cannot live without mustard. Almost every vegetable has a recipe with mustard inclusion. Begun basanti is an eggplant dish where the eggplants are cooked in a sublime yogurt, mustard paste and poppy seed paste gravy. However, the spices are used in such a way that there is a beautiful balance and no one spice overpowers the others. This is a must try dish if you love aubergines. Check out the recipe of Begun Basanti 
Begun diye Ilish Macher Jhol- Eggplants or brinjals cooked with Hilsa
Well, it's impossible to get Hilsa now. However, this same recipe can be done with any other bony fish or even a seer fish. A light simmering gravy with subtle flavours and mushy brinjals are a bliss in this hot weather. With just the tempering of nigella seeds, green chilies and a small kitchen secret, this is a highly recommended dish. Want to try this recipe with some other fish ? Here is the recipe 
Begun borir ambol- Eggplant in a sweet and sour tamarind chutney
The eggplants are cubed and cooked in a sweet and sour tamarind chutney with some crunchy dried lentil dumplings. Bengalis love their ambols and chutneys and this is one dish which can be rustled up quickly in a kitchen. One one hadn it requires very less ingredients, on the other hand, any meal can become luxurious by adding a bowl of this begun borir ambol in the end. It can be the last dish but worth a try . Check the recipe of Begun Borir Ombol here 
I still have so many eggplant recipes to share. As and when I add recipes, I shall update this post. Here is another eggplant recipe for which I do not have a blog post ready. However, it was well appreciated on both Facebook and Instagram. Vangi Bhat, pulao made with brinjals, is a one pot meal suitable for these times. Here is the instagram link to the video of the cooking.
Do try these recipes and share your feedback. You can reach out to us at our social media handles: Instagram, Facebook or any of our personal Facebook (Madhushree and Anindya) and twitter profiles. Post a picture and tag us.
Pin this for your recipe board? You can follow us on Pikturenama recipes for more recipe ideas (Link)
We are also present in Youtube and if you love the recipes then subscribe and comment there too