Arbi- is one of the most commonly found vegetables across the country. Almost all communities have some way of eating this and it has many names too. We call it gathi kochu or gati kochu in Bengali. I have heard some people say gutke kochu. And then there is arbi or arvi, soran kesavu and so on. In English, it belongs to the Colocasia family and is a root vegetable. This gathi kochur torkari is how it is mostly cooked in Bengali kitchens. 
You can also call this gathi kochur dom. In fact, it is cooked almost like our niramish alur dom, except, I like to add onions and ginger-garlic paste to this to make it more chatpata. Tamarind is of course needed to cook anything from the kochu family. It takes care of the itchy throat. And also gives that umami to the dish. Instead of having it with rice or roti, I prefer having it as a snack. Top it with chopped onions, ginger julienne and a squeeze of lime and it's a perfect evening snack.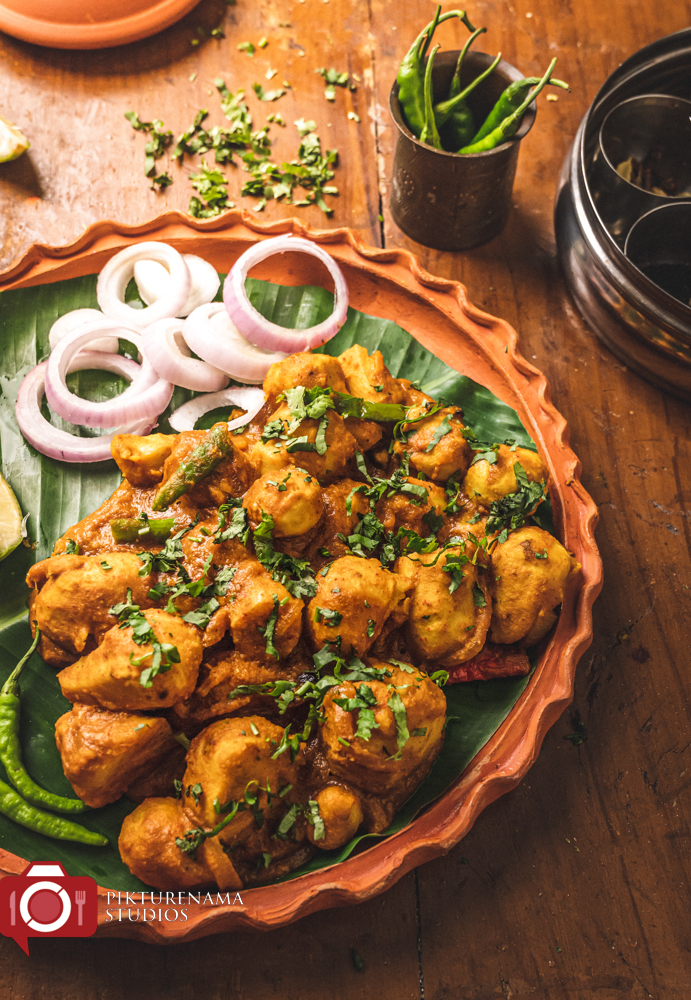 Another tip that really comes in handy is how to peel the skin. While you can always boil the kochu in water and then remove the skin, I find it easier to go the reverse way. I peel the skin with a potato peeler and then give it to a boil. And finally, discard all the water and run it once under cold water. fairly simple recipe, hope you try it and like it too. Gati kochur tarkari works great for a weeknight dinner or a weekday lunch or an evening snack as well. 
Share your cooking with us
Are you following us on our youtube channel Cook with Pikturenama?
Do try this recipe and share your feedback. You can also reach out to us at our social media handles Instagram, Facebook or any of our personal Facebook (Madhushree & Anindya) & Twitter profiles. Please post a picture and tag us.
Check out our reel on instagram for Gatikochur Dom.
You can also check out the Instagram handle of PIKTURENAMA STUDIOS if you want to give your culinary creations a voice.
Pin this for your recipe board. And you can follow us on Pikturenama recipes for more recipe ideas (Link)
Gathi Kochur Torkari | Bengali style Arbi ki Sabji
Gathi kochur torkari is almost like an alur dom cooked with a whole lot of spices.
Ingredients
500

gms

gathi kochu or arbi

2

tbsp

mustard oil

2

nos

dried bay leaf

2

nos

dried red chillies

3

nos

green cardamom

½

inch

cinnamon

4

nos

cloves

1

large

onion finely chopped

1 ½

tsp

ginger paste

1 ½

tsp

garlic paste

½

tsp

turmeric powder

1

tsp

Kashmiri red chilli powder

1

tsp

coriander powder

1 ½

tsp

cumin powder

1

dollop

tamarind pulp

1

tsp

sugar

salt to taste

4-5

nos

green chillies
Instructions
Remove the skin of arbi (kochu) and wash it. Then boil this till it's soft. Discard the water. You could boil and remove the skin too. It's a personal choice. 

Heat mustard oil in a kadai, and add the whole spices one by one. Then add onions finely sliced.

Fry the onions on high heat for 3-4 minutes and then add garlic paste and ginger paste. Continue frying this on medium heat

Then make a mixture of half tsp of turmeric powder, Kashmiri red chili powder, coriander powder and cumin powder. Add water and add this to the onions. 

Fry this masala for 3-4 minutes and then add a dollop of tamarind pulp.

Add the boiled kochu to this and mix everything. Fry on high heat for a couple of minutes and sprinkle salt and add half a cup of water. 

Cover and let this soak in the liquid for some time over low heat. Then uncover and add sugar to balance the sourness of the tamarind, add split green chillies and that's it. 

Mix all this, if you feel a little more water is needed for the saucy consistency, do so and take it off the heat.