Luchi and Sundays are literally synonymous in our lives. It does not apply to just us but every Bengali that I know of. Luchi is a must for Sunday breakfast. Right from Tugga to Tugga's thammi would be disappointed if not luchi for breakfast. Rarely, an alternative is cooked but that has to be something quite exotic to match as a substitute.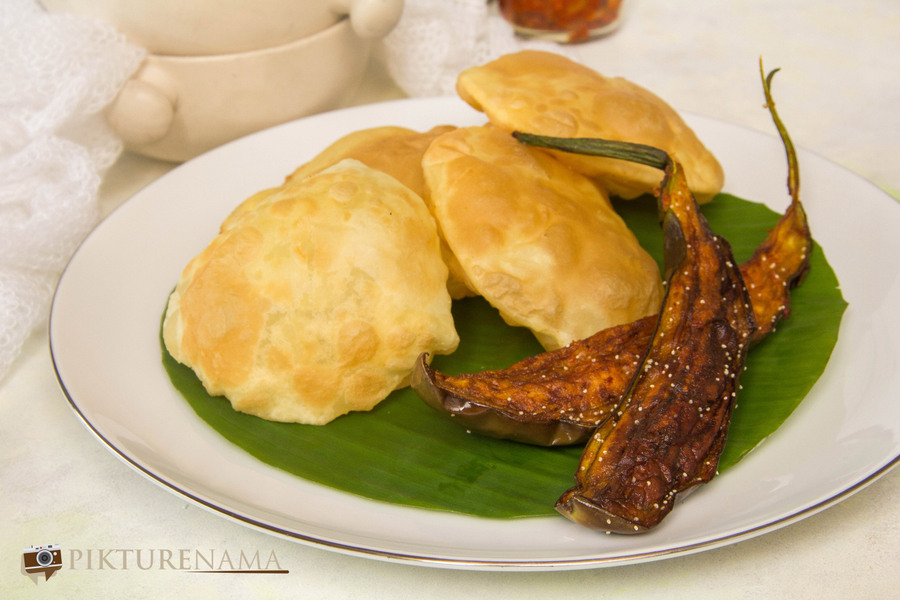 What does one eat luchi with?
The torkari or the vegetable that goes with luchi can vary. Sometimes you can make shada alur torkari, Niramish alur dom or alu phulkopir torkari. Luchi cholar dal is a brilliant combination but that normally is served for lunch or dinner. In that case, begun bhaja quite often, is the accompaniment. There are several kinds of alur dom that goes with it. There is also khosha dawa alur torkari, which tastes brilliant. Most often, for a special lunch or dinner, there is  manghsor jhol. Luchi with manghsor jhol is simply, for lack of a better word, 'potent'
How is it different from puri?
Yes, they are both puffed bread and are deep fried but the basic ingredient is different. Unlike North Indian puris, luchi does not have whole wheat flour or aata. It is made with all purpose flour or maida only.
Along with maida or all purpose flour, a little bit of oil and water is used to knead the dough. The kneading of the dough is quite critical. You have to spend a good 6 to 8 minutes to knead it to a tight dough. Then you have to cut out small rounds balls, less than the size of a small lemon. Each one is then rolled out on a hard surface into thin round shapes. It is important to make small balls because the average diameter of a luchi should be approximately 4 to 4.5 cm. You can make them bigger but that's up to you. Finally, these are deep fried one by one in vegetable oil. The frying process is quite delicate and the disc needs to puff up and cannot turn brown.
The perfect luchi will be off white in colour.
In some houses, they prefer golden colour and crisp on the outside, like in the pictures here. If you feel generous, you can fry them in ghee. We call it Ghee e bhaja luchi. That is a whole different level of satisfaction.
It takes some amount of practice for getting all the steps correct. If there is an error at any step, the final luchi does not puff up.
For a long time, I would only take up frying. Rolling was not my cup of tea until the last couple of years. However, I still find the frying process the most fulfilling. When the luchi puffs up and you turn it over, it's a huge amount of satisfaction. You have got it right!!
Have you started following us in pinterest for more recipe boards? We made a reel too out of the same and you can follow us on Instagram for more reels like this – 
Share your cooking with us
Are you following us on our youtube channel Cook with Pikturenama?
Here is the youtube version of the recipe. Check this out and listen to some of our interesting stories of Luchi 
Do try this recipe and share your feedback. You can also reach out to us at our social media handles Instagram, Facebook or any of our personal Facebook (Madhushree & Anindya) & Twitter profiles. Please post a picture and tag us.
You can also check out the Instagram handle of PIKTURENAMA STUDIOS if you want to give your culinary creations a voice.
If you have any queries regarding food photography, food styling, and Content creation, Check out our website right here – BEHANCE
Pin this for your recipe board. And you can follow us on Pikturenama recipes for more recipe ideas (Link)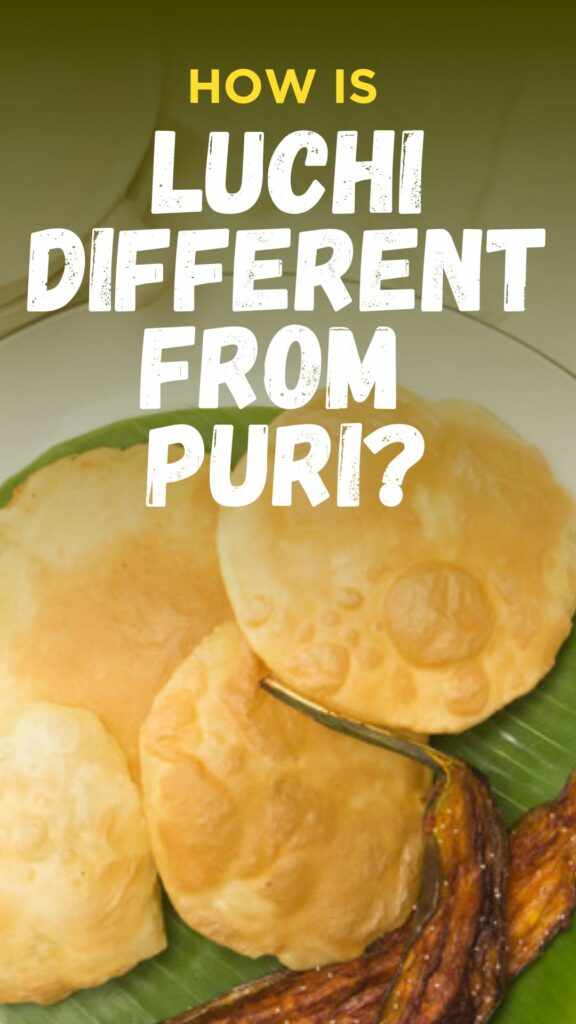 How to make a perfect Bengali Luchi
Small deep fried puffed bread made with all purpose flour. Recipe Author : Madhushree
Ingredients
2

cups

Maida or all purpose flour

1

tbsp

vegetable oil

1/2

cup

water

Salt To Taste

oil for deep frying
Instructions
In a bowl, mix together flour, salt and 1 tbsp of oil. Add the water slowly while bringing together the dough. You might need little less than half cup of water. Keep kneading till you have a tight yet elastic dough. Takes about 6 to 8 minutes.

Once that's done, keep it covered while you take a kadai and pour the oil for deep frying.

Start by making small round balls from the dough, less than the size of a lemon.

Roll them one by one on a hard surface, preferably granite, marble or a wooden rolling board. Do not dust with flour, instead use very little oil from the kadai to grease the surface before rolling.

In the meanwhile, start heating the oil. During this process, also keep rolling the balls into small disc's about 4 to 4.5 cm in size. Make sure they are very thin or else they won't cook on the inside.

When the oil has become very hot, reduce the flame to medium and gently slide in a disc in the oil. Using a flat spatula or slotted spatula, press the luchi from top and sides to puff it up.

The minute it puffs up, turn it over. Cook it for a few seconds. Then quickly strain the oil with the help of the slotted spoon by bringing the luchi to the side of the kadai and then place it on a kitchen towel.

The temperature of the oil should be medium to high, somewhere in between,so that the luchi doesn't burn but puffs up.

Serve hot luchi with a side of your choice.
Notes
In case you want to store the dough, keep it in an airtight container for a couple of days in the refrigerator. Take it out and bring to room temperature before rolling the dough.
The colour of luchi varies from completely white to off white and golden. You cannot have a luchi which is golden brown. So, the timing is extremely crucial.