What does Sunday mean to you? Ask a Bengali.  The answers lie at the end of this post. Let me know how many match your answer.
There are many specialized dishes which have certain strength or flavour and only goes with specific combinations. A nicely made chicken rezala with a rich creamy semi-white gravy and complex flavours can only be considered complete with roomali roti. The spicy shorshe Ilish (Hilsa cooked in rich mustard paste) which bursts with flavours and split green chili which makes it spicier, can only be done justice through steaming hot rice.
Crossing the borders, a plate of hummus made from chickpeas, sesame paste, lemon juice and garlic is incomplete without pita bread. A classic Sunday roast is incomplete without potatoes on the side. These dishes are so iconic that they can never be thought of without the combinations.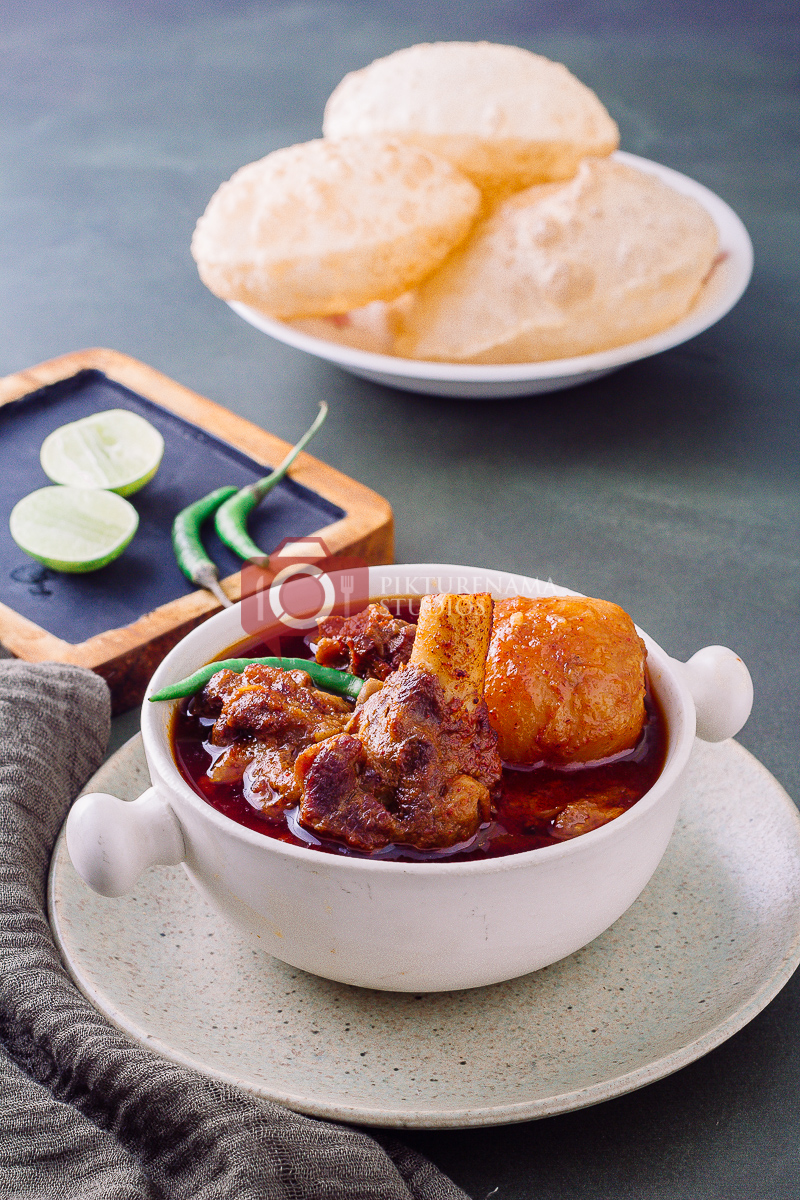 A little about the cricket before we go to Mangshor Jhol 
There are always great cricketers like Sir Don Bradman, Sachin Tendulkar, Vivian Richards, Brian Lara, and so many legends. It won't be exaggerating to say that the game of cricket would not have been the same without them but then there were utility cricketers too. Utility cricketer (UC) with moderate batting skills can be plugged in at any position in the batting order. No big records to back them, no superstar status, but they were still there. Want to save your best batsman in a fiery spell, send the UC, want someone to sacrifice for some quick runs in a big chase, send the utility cricketer. It does not end here; these players could bowl also for 4-5 overs or more so when all the star bowlers were hammered for boundaries. While the stars are always the hub, the utility cricketers are the spokes that keep the wheel moving.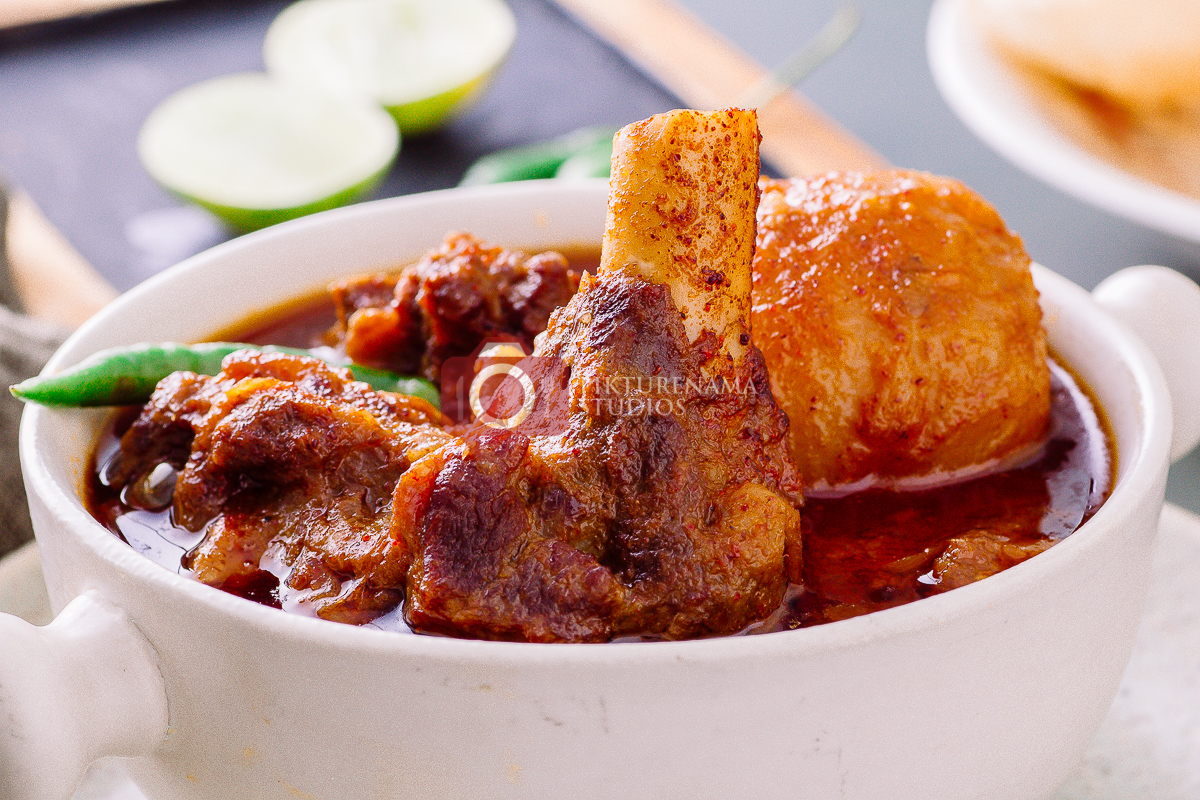 The wait for Mangshor Jhol is over? 
Wait, if you are glaring with surprise that you have come here to read about mangshor jhol and I have pushed you for cricket stories that have no relevance, then hold on. For me, mangshor jhol is one of the best utility dishes in a Bengali household. Surprise guest visit – mangshor jhol with paratha. Son coming back home after a year- mangshor jhol. The newlywed bride trying to impress the in-laws – mangshor jhol and luchi. The husband trying to make up on a Sunday after a Saturday fight – you have mangshor jhol and rice. It's for every occasion. 
However, what makes mangshor jhol so coveted? It is that large piece of golden coloured potato floating in the gravy that takes this dish out of the park. The potato literally melts in the mouth and if you mash it with the rice, squeeze some gondhoraj lebu, you can reach the gates of heaven. The meat falls off the bone and the gravy has a thin layer of oil floating on top with fiery red colour. And it has that mild fragrance of Bengali garam masala and a hit of green chilies. Nothing can be better than this.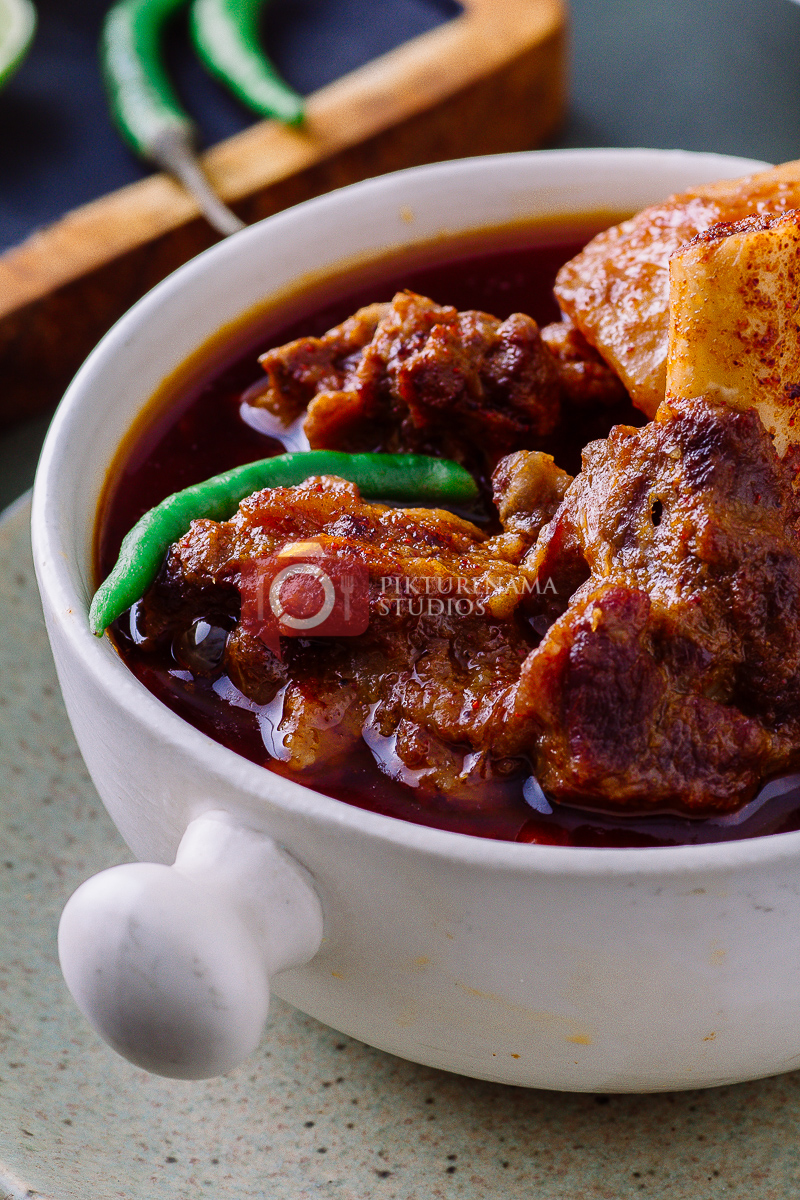 Some of the best combinations with Mangshor Jhol are as follows –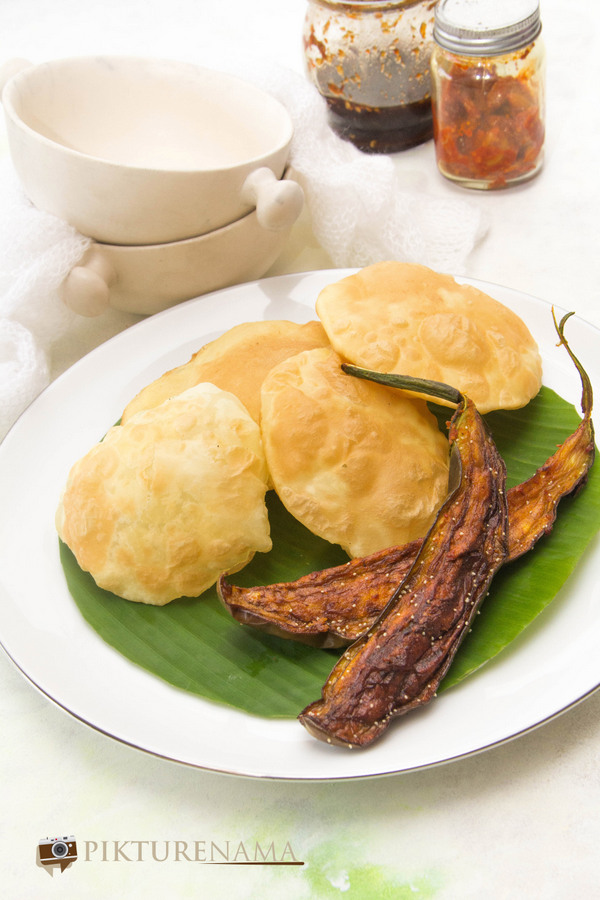 The Basanti Pulao is a perfect festival dish for Bengalis 
How about some Luchi for the dinner with Mangshor Jhol? 
It is not an unknown fact that no recipe is authentic. However, there are basic guidelines of a dish and then from the chef to the home cook, each has their own variation or secrets of the trade. And when the recipe is passed on, more often than not, the smart clever cook never passes on the complete recipe.  Every Bengali household has its own recipe of mangshor jhol. Some passed on from generation after generation with small tweaks at each level of passing on, some remained intact without a scratch in the process. The recipe here is how Madhushree's grandmother used to cook with a bit of tweaking from her end.
A picture worth of thousand word. Behance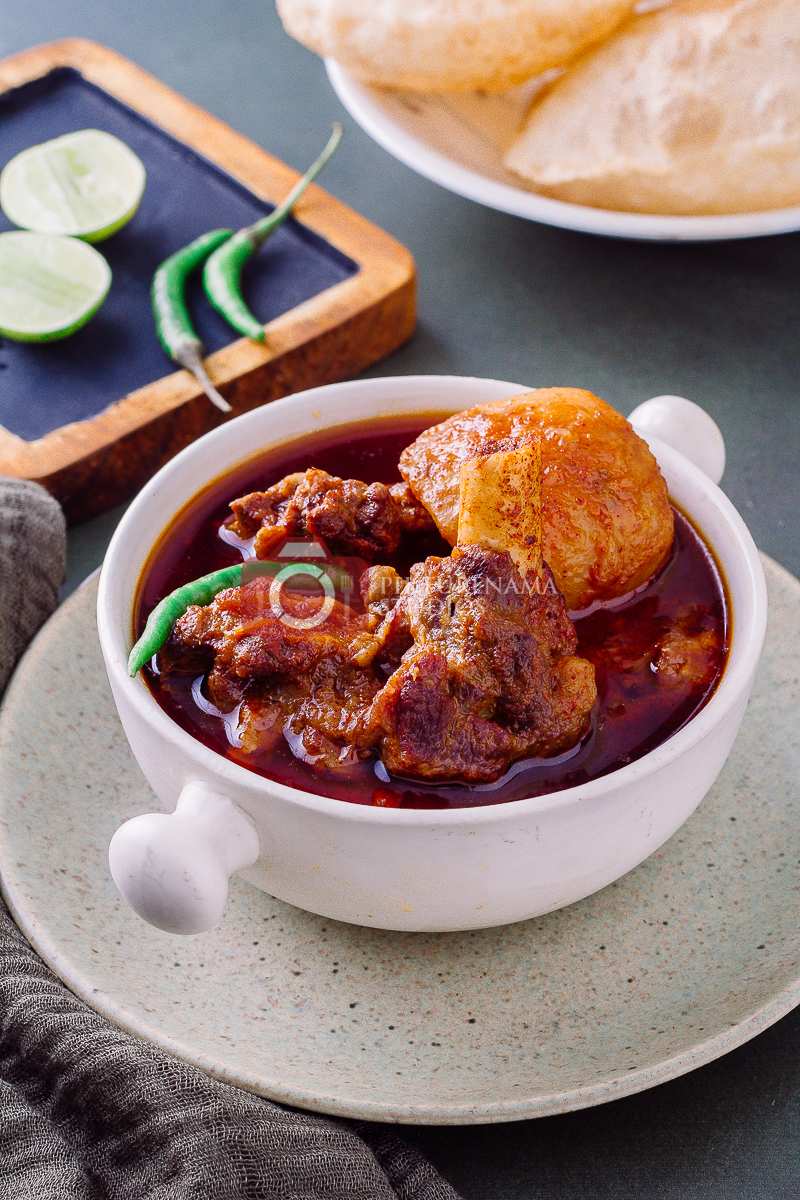 Finally the Mangshor Jhol is ready 
I started with the question that what does Sunday mean to a Bengali?  It means a lot when it comes to food and while the opinions may vary between a luchi or Paratha, Fish or mutton/ chicken, choice of variety of fish, seasonal dishes but Mangshor jhol with chunky pieces of potato will be perhaps an unanimous choice for many. What does Sunday mean to you?
Disclaimer – Mangsho is universally mutton or goat meat for us and if by any chance you think I have shifted loyalties from Kosha Mangsho you are wrong. It still remains the fantasy dish before death.
So, it's not only the Mangshor Jhol that the Bengali household prefers on all Sundays. There is something called a Gorgore Robibarer Murgir Jhol – A Blood red , spicy Chicken curry in bengali style. Check out this video to make it –
We couldn't resist making the mangshor jhol for Instagram. Let us know how you liked it –
Share your cooking with us
Are you following us on our youtube channel Cook with Pikturenama? Pls subscribe. 
Do try this recipe and share your feedback. You can reach out to us at our social media handles: Instagram, Facebook or any of our personal Facebook (Madhushree and Anindya) and twitter profiles. Post a picture and tag us.
Pin this for your recipe board ? You can follow us on Pikturenama recipes for more recipe ideas (Link)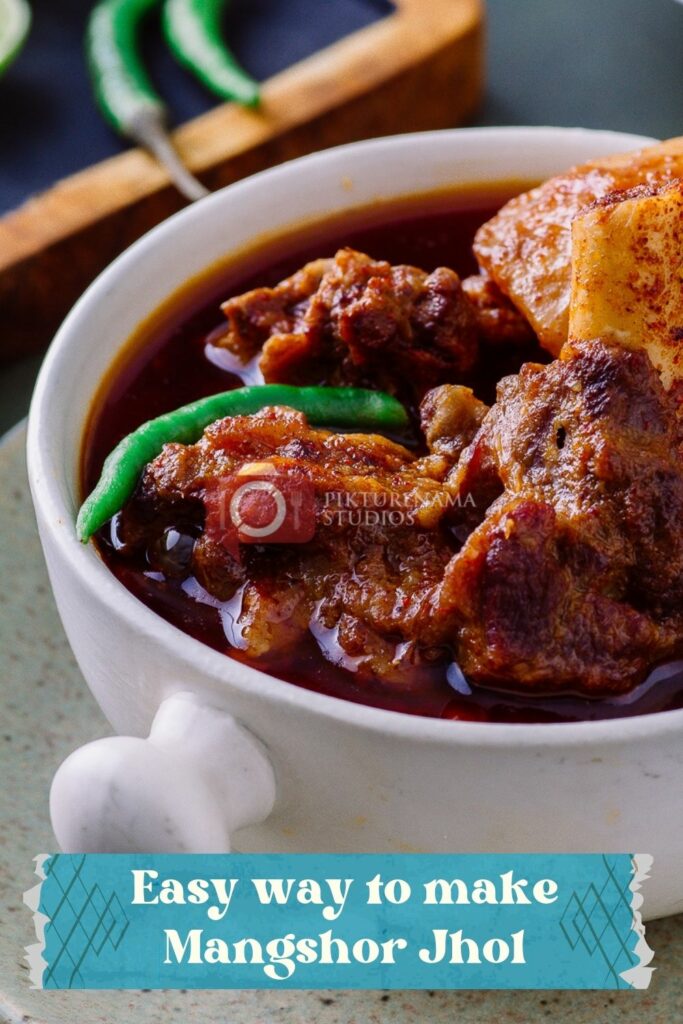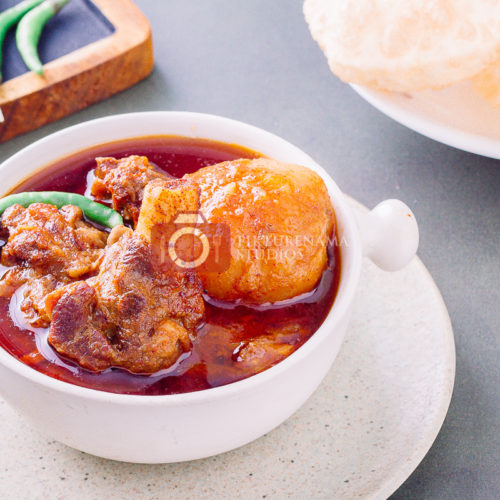 Mangshor jhol- Mutton Curry Bengali Style
This is typical Bengali-style mutton or goat meat curry with potatoes cooked usually on Sundays.
Ingredients
1

kg

mutton

cut into medium-size pieces

1

cup

thick yogurt

2

large

onions

finely sliced

2

tbsp

garlic paste

1.5

tbsp

ginger paste

2

nos

dried bay leaf

3

nos

green cardamom

4

nos

cloves

1

inch

cinnamon stick

2

nos

dried red chilies

3

tsp

Kashmiri Red Chili Powder

1

tsp

red chili powder

2-4

nos

green chilies

1

tsp

sugar

1/2

tsp

Bengali Garam Masala

Find the recipe link in the post above

1/2

cup

mustard oil

plus 1 tbsp extra for the potatoes

1

tsp

ghee

(optional)

4

large

potatoes
Instructions
Marinate the mutton with yogurt, ginger paste, garlic paste, Kashmiri red chili powder (half the quantity), 2 tbsp of mustard oil and a bit of salt. Keep it for at least 3- 4 hours or more if possible.

Peel the potatoes and wash them under running water. Cut each potato in half. In a kadai, heat 1 tbsp of mustard oil and fry the potatoes till the outer part has slightly become golden. Take the potatoes out of the oil and keep them aside.

In the same kadai, pour the rest of the mustard oil and let it come to a smoking point.

Add bay leaf, dried red chilies, cloves, cinnamon and cardamom. Let the spices turn colour and release aroma. Add the sliced onions at that time. Over medium to high heat, continue frying the onions till they have softened.

Add the rest of the Kashmiri red chili powder, sugar and a little bit of salt to this and keep frying.

The onions will soon become golden brown, more dark reddish in colour.

At that point, toss in the mutton pieces from the marinade. Over high heat, mix the mutton thoroughly with the onions.

Mix it all very well in the wok and keep stirring and cooking till the mutton has sort of browned. It actualy starts to release a lot of water. So keep the heat at maximum.

Transfer the mutton to a pressure cooker and if you do not have one, then all you need is to cover and cook it on stove-top.

Use a cup of water to clean the wok and transfer all the spices into the pressure cooker. If there is an leftover marinade, transfer that also to the pressure cooker.

Pressure cook for 15 minutes or about 6 whistles. Turn off the gas and release the steam from the pressure cooker. Open the lid and add the potatoes to the gravy.

Give it a stir and once again, close the lid and let the mutton cook in the pressure cooker. In case of cooking otherwise, add the potatoes half way into cooking the mutton.

Continue cooking for another 20 to 25 minutes or about 6 more whistles. The number of whistles depends on the quality of your mutton. Some take a long time to cook and some take less. But approximatley in a pressure cooker, mutton takes from 8 to 12 whistles to cook.

Once it is done, open the lid after the steam has released. Check if the mutton has become soft or not. If not, then you need to close the lid and give it a couple of more whistles.

Add another cup of water if you like more gravy. Check the seasoning and add salt if required. Add slit green chilies. Finally, add ghee and garam masala powder and give it a good stir. You can skip the ghee if you want and add only garam masala powder.

Finally, turn the heat up and give it one boil and then turn off.

Serve it with some steamed rice or luchi.