Let's make a list of top 5 which will definitely have 1 of your choice
Ilish machh bhaja- Ilish fried in mustard oil and definitely needs to be consumed piping hot.

Ilish Paturi– Ilish wrapped in banana leaves, steamed with rich mustard and poppy seed paste. A modest drizzle of mustard oil before serving and it is food for the gods, if the gods were non vegetarian.  

Shorshe Ilish- The evergreen classic – mildly fried Ilish is cooked with a rich paste of mustard seeds, green chilies and that dash of mustard oil required to make this piquant.

Ilish Begun jhol – One of the most undermined ones in this entire fare. It could be for its simplicity but this is one, where the spices and other ingredients don't over rule nor destroy the taste of the fish. 

Doi Ilish – I will slightly tuck in this dish as this is our personal favourite at home. Ma is a master artist in this. Incidentally, this Doi Ilish is now available at Taj Bengal Kolkata as a part of their ongoing Ilish Festival menu. Check out how we cooked there – (link) 
Why Ilish Begun jhol?
Keeping it simple yet elevating a dish is tough. Many a times, in order to create something extraordinary out of this kingly fish, even a maestro has messed up. I had written about it earlier, where in that particular year, there was so much of innovation that I had to shout out- Don't touch my Ilish recipe please.(Read here) 
While Sorshe Ilish and Doi Ilish are must for the Ilish season, this is one of the easiest, quick recipes to welcome Ilish at home. Ilish begun Jhol is uncomplicated. It is unworthy of a thought of finding layers of taste, spices, textures and all that one will look for in a dish as a food lover. Why then? if Ilish is your key protagonist, then Ilish Begun Jhol is the perfect script. Long slices of begun/ egg plant of the same length of the Ilish float in this very light broth. The subtle flavour comes from nigella seed. And when the oil is released from the fish into the broth, along with mustard oil, it creates a soul touching comfort.
Is this Bangal or Ghoti?
Just as Ilish from Bangladesh is often considered as the better than the ones which are available here, this dish is also a migratory dish in our house. Hold me at gun point, anything from Bangladesh to West Bengal is migratory. So why not this dish? This dish has its origin in Rajshahi in Bangladesh and got passed on by Madhushree's grandmother to her. So doesn't that make it migratory? Sorry, by migratory, I do not want to invoke a controversy as big as the one which Mesut, Ozil, the German footballer has gone through and had to eventually resign from the German national side.
What is your favourite Ilish dish? Does any of the 5 mentioned here make a cut? Let me know?
Add this recipe to Yummly ? – Yum

Pin this for your recipe board ? You can follow us on Pikturenama recipes for more recipe ideas (Link)
Do try this recipe and share your feedback. You can reach out to us at our social media handles: Instagram, Facebook or any of our personal Facebook (Madhushree and Anindya) and twitter profiles. Post a picture and tag us.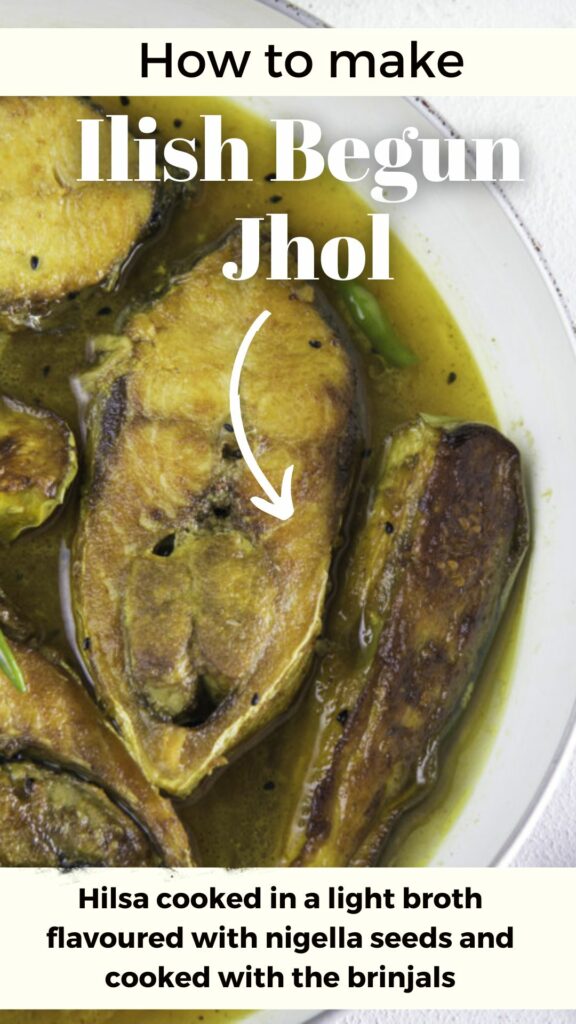 Ilish Begun Jhol/ Ilish and eggplant curry bengali style
Ilish or Hilsa cooked in a light broth flavoured with nigella seeds and the fish itself with the brinjals providing a nice body to the dish. The slit green chilies are an added bonus. This recipe is a bit different from the regular beguner jhol since here a little bit of methi is also used in the tempering. Recipe Author: Madhushree
Ingredients
6

pieces

Ilish or Hilsa

2

Nos

brinjals

Cut length wise

1

tsp

Turmeric Powder

2

tbsp

Mustard Oil

1/2

tsp

nigella seeds

4

nos

fenugreek seeds

1

no

Dried Red Chili

4

nos

green chilies

Salt To Taste
Instructions
Wash the ilish pieces and pat them dry. The trick with Ilish is to not wash it too much. They say the taste goes away if you wash ilish too much.

Rub the pieces of the fish with 1/2 tsp of turmeric powder and a little bit of salt and keep aside.

Cut the brinjals length wise into quarters. The length of the brinjals should preferably be as long or probably longer than the size of the ilish pieces. Of course we are not talking about cooking khoka or baby ilish (that would be a crime). Each brinjal would give you 4 or 5 slices at the most.

In a frying pan or a kadai, take 2 tbsp of mustard oil. When the oil has reached a smoking point, release the fish pieces in the oil and lower the temp. We want the fish very lightly fried. Just half a minute of each side would be enough.

Use the slotted spoon to take the fish out of the oil and keep them very gently on a plate.

In the same oil, add one dried red chili, nigella seeds and the fenugreek seeds. When they splutter, add the brinjals. Sprinkle the balance turmeric powder and a little bit of salt and fry the brinjals in that mustard oil.

The brinjals will within minutes soak up the oil. So reduce the temperature and cover and cook the brinjals.

It takes about 7 to 8 minutes for the brinjals to become soft. Then add about 2 cups of water. Slide the fish pieces in the water. Keepng the tempetarure at a medium, let the gravy simmer for sometime. Add salt as required.

Add slit green chilies and finally when oil starts to float on top of the gravy, turn off the heat.

Serve it with steamed rice.