Strange isn't it that I am talking about macher dimer borar torkari on Vishwakarma Pujo rather than mangsher jhol?
Vishwakarma Pujo has always been a very integral part of my life. My family business is of construction (government projects, infrastructure etc). Hence, Vishwakarma Pujo has been quite a routine every year. Vishwakarma pujo and mangsher jhol go hand in hand. It was always the same for me too until last year. Exactly a year back, I was at our office for Vishwakarma Pujo. On that day, there was macher dimer borar torkari as a side. I had always eaten macher dimer bora and the same, in a jhol. But I had never seen anyone making this particular macher dimer torkari.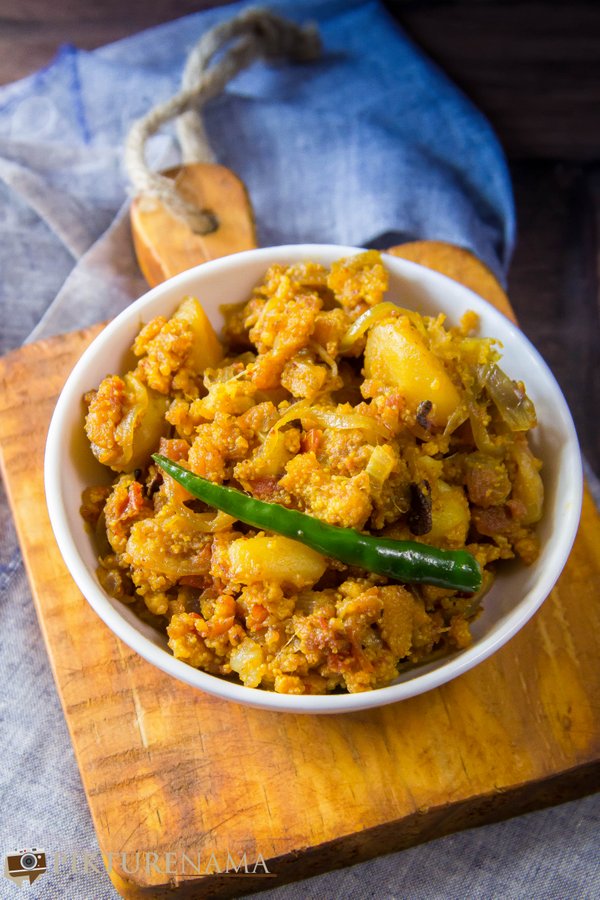 Over the years, we have had several cooks from the site who would cook on Vishwakarma pujo. I can never forget Ashu's mangsher jhol. He was a  supervisor and used to make the mangsher jhol every year, at Port Blair and later at Goa. He had a brilliant hand and we used to look forward to tasting that jhol. Then there was Kali, from Alipore Command Hospital site, who was really good too. But his mangsher jhol was little extra spicy and 'gorgore'. Last year was the first time we did not have a project site in Kolkata. Therefore, the pujo was held in office. Our office peon, Nitya cooked and he hit the right notes in everything that he did.
Macher dim is fish roe and macher dimer borar torkari is a dish made with potatoes and fish roe fritters
Nitya's food was quite simple compared to the Vishwakarma pujo regulars. His food was light, made with less oil and still was flavourful and the balance of the spices was perfect. There was mangsher jhol, of course, and there was doi mach, macher matha diye dal, macher dimer borar torkari, tomatoer chutney and mishti doi. It was a perfect meal and we enjoyed this lunch.
I remember looking at the macher dimer borar torkari in the degchi and thinking it was alu posto made with peyaj. I was ready to be unhappy and displeased with the food, till I put it in my mouth and realised it was something else. It was made with macher dim, which was fried and then crumbled and mixed with the alu. It looked like alu posto but it wasn't. The recipe was quite straightforward and had a rustic feel about it. Unlike a normal macher dim, which had a fishy smell, this dish did not have that odor. In fact, you could get the whiff of ghee and Bengali garam masala. I knew it was going to be a staple at my home henceforth. And it has been ever since.
For macher dimer bora, we prefer using roe of Catla or Rohu (Carps)
This was the first time I am missing out on the celebration in office on Vishwakarma Pujo. My nanny was on leave for 'Ranna Pujo' – a pujo dedicated to the cooking goddess. And I simply refused to take Brishti to office while there was a pujo going on and Brishti running around. Nowadays schools remain close on Vishwakarma Pujo because school bus drivers are not available. So Tugga was at home and all I did was micromanage the chaos at home with both the kids and their varied needs.
We did not have that luxury as children. Our school used to be open and the concept of school bus was non-existent in Port Blair. We used to take half day from school and directly reach the site where the pujo used to take place. I think, I still miss those days and I could give up anything to go back in time to my childhood.
This is how I make mansghor jhol. This one is a light variety. And this is how I make kosha mangsho. 
I have modified the recipe a little bit to my liking and that's how we like it. In fact, I had included this dish for our food festival at Chilekotha. It was very well accepted by a lot of people and some found it to be a winner of a dish. I also remember a few with discerning taste buds being quite surprised by the dish.
Do try this recipe and share your feedback. You can reach out to us at our social media handles: Instagram, Facebook or any of our personal Facebook (Madhushree and Anindya) and twitter profiles. Post a picture and tag us.
Pin this for your recipe board ? You can follow us on Pikturenama recipes for more recipe ideas (Link)
Macher Dimer Borar torkari
This is a dish made with fish roe fritters crumbled with potatoes and other spices.


Ingredients
For Macher Dimer bora (making the fish roe fritters)
150

gms

fish roe

preferably rohu or katla roe

1

no

Medium Sized Onion

finely chopped

1

tsp

ginger paste

1

tsp

garlic paste

1/2

tsp

turmeric powder

1 1/2

tbsp

besan or bengal gram flour

salt as per taste

vegetable oil for deep frying
For Torkari
1

no

medium sized onion

finely sliced

3

nos

green cardamom

4

nos

cloves

1

inch

cinnamon stick

1

tsp

ginger paste

1

tsp

garlic paste

1

no

dried bay leaf

1

no

dried red chili

1

no

large potato

peeled and cut into1/2 inch cubes

1

no

medium sized tomato

roughly chopped

1/2

tsp

turmeric powder

1/2

tsp

red chili powder

1/2

tsp

Bengali garam masala powder

1/2

tsp

sugar

1

tbsp

ghee

2-3

nos

green chillies

2

tbsp

mustard oil

salt to taste
Instructions
Method for making macher dimer bora (fish roe fritters)
Wash the fish roe under running water and then pat it dry. Add all the ingredients listed and make a mash of the fish roe. The batter should be thick.

In a frying pan, heat oil for deep frying. When the oil is hot, use your fingers or use a table spoon to take the fish roe batter and gently drop it into the hot oil.

Reduce the temperature of the oil or else the outside will burn without actually cooking. In medium flame, slowly cook and turn the fritters to the other side after you see colour forming.

When the fritters are golden brown, take them out with a slotted spoon and keep aside to cool down.
For Making macher dimer borar torkari
In a frying pan or kadai, take mustard oil and when it starts to smoke, add bay leaf, dried red chili, cardamom, cinnamon and cloves. Let them form a colour and start releasing oil.

Add the sliced onion and stir fry them over high heat. After a couple of minutes, add ginger paste and garlic paste. Continue story frying. Reduce the flame if the ginger paste starts to brown too much.

Add the potatoes, chopped tomatoes, salt, turmeric powder, red chili powder and mix everything thoroughly.

Keep the flame high for a minute and stir fry. After that reduce the temperature and sprinkle some water. Cover with a lid, lower the flame and let it cook slowly for 8 to 10 minutes.

Keep a watch over the potatoes. Depending on the size of the cut, the temperature of the flame, the potatoes will cook.

Keep stirring from time to time and while the potatoes are cooking, you need to prepare the fish roe fritters.

Crush the fish roe fritters or macher dim into a grainy texture and keep it ready.

Once the potatoes are cooked, add the fish roe grains to the frying pan. The amount of fritters you want to use is upto you. If you want less fish roe and more potatoes, do so and keep some fritters to be eaten on the side or cooked later.

Add sugar and adjust the seasoning. Mix everything and add Bengali garam masala, ghee, split green chilies and fry them together.

When everything has come together and the fish roe grains have also mixed with the spices, check the seasoning once more and add more last if required.

Once done, turn off the heat. Serve the macher dimer torkari with steamed rice.