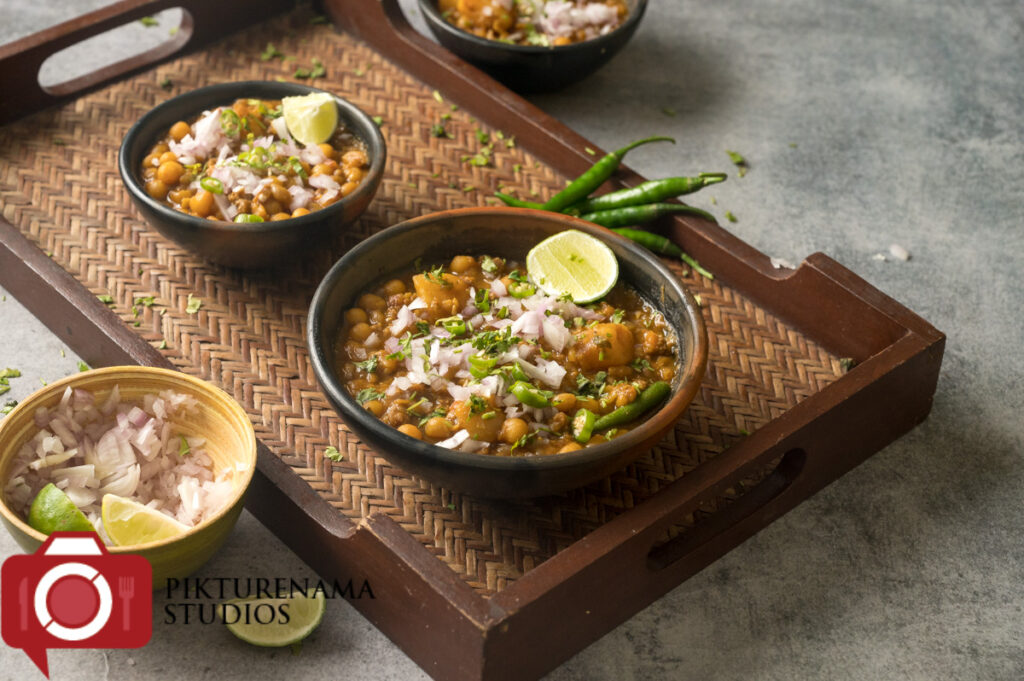 I say superstar or should it be the show-stopper? A typical bijoya platter would consist of kucho nimki, narkel naru, some sondesh and of course ghugni. But then, every once in a while, the humble ghugni is amped up with mutton keema and it becomes mangsher ghugni. Just plain good!!
The last two months have been insanely tiring with client shoots and deliverables. We had to ramp up the team also and at the end of the day, felt proud of everything that we could achieve during this time. After all, Durga Pujo is the only time when brands have their biggest spend in Kolkata. It was a great experience as well, right from doing the cookme campaign to licious campaign. Kolkata Classics launched a new IP- Pujo Classics that had an extensive shoot and had a successful release as well. To top all of that, we had a ten Bengali food festival at Grand Mercure Gopalan Mall in Bengaluru and this was the first one after COVID-19. It was a big deal. And it was a huge success too. 
Coming back from Bangalore on Ashtami night, we slept through the next two days and finally, we started getting back to work. The team is also coming for work, the office is in full swing, and Cousins are coming over for Bijoya. The easiest thing to make- mangsher ghugni. It is such a crowd-pleaser too. Mutton keema mingled with all the deliciousness of dried white peas and that hint of Bengali garam masala. The oomph comes from a dash of ketchup of red momo sauce.
Share your cooking with us
Are you following us on our YouTube channel Cook with Pikturenama?
Do try this recipe and share your feedback. You can also reach out to us at our social media handles Instagram, Facebook or any of our personal Facebook (Madhushree & Anindya) & Twitter profiles. Please post a picture and tag us.
You can also check out the Instagram handle of PIKTURENAMA STUDIOS if you want to give your culinary creations a voice.
Pin this for your recipe board. You can follow us on Pikturenama recipes for more recipe ideas (Link)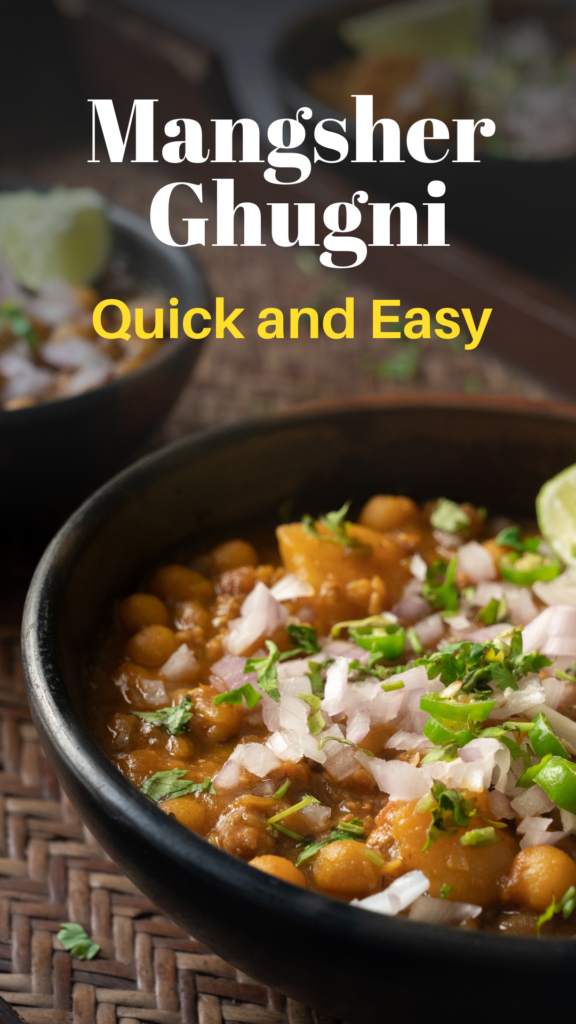 Mangsher Ghugni | Bengali mutton keema ghugni
Mutton keema is cooked with dried yellow peas, also known as matar into a stew with spices.
Ingredients
1

cup

matar

or whole dried yellow peas

2

large

potatoes

1½

tsp

turmeric powder

2

tbsp

mustard oil

2

tsp

Kashmiri red chili powder

3

nos

green cardamom

4

nos

cloves

½

inch

cinnamon

2

dried

bayleaf

2

dried

red chilies

2

large

onions

that are finely chopped

1½

tbsp

garlic paste

1

tbsp

ginger paste

1

large

tomato

that is finely chopped

1

tsp

cumin powder

½

tsp

coriander powder

250

gms

mutton keema

that is minced meat

2

tbsp

ketchup

or momo sauce

¼

tsp

Bengali garam masala

2-3

nos

split green chilies

coriander leaves

for garnishing

lemon wedges for garnish

chopped onions and chilies for garnish
Instructions
Soak matar (yellow peas) overnight or for 6 hours. Then pressure-cook it with salt and half tsp turmeric powder with enough water that should rise atleast 1 inch above the matar. You have to give it 2 whistles and not more. The matar should hold shape and yet be cooked.

Cut potatoes into small cubes and fry them in a little bit of oil till they are completely cooked.

In a kadai, heat 2 tbsp mustard oil and temper with dried tej patta, dried red chillies, green cardamom, one inch cinnamon and cloves.

Then add onions finely chopped and stir-fry. After about 4 minutes, add garlic paste and ginger paste and fry with the onions on medium heat.

When the onions have cooked, throw in the tomato. Then add cumin powder, coriander powder, Kashmiri red chili powder and turmeric powder and salt to taste.

Take a little bit of the pea stock and add to this masala and cook the masalas till they start leaving oil from the sides.

Then add in mutton keema. Mix this well and fry for a few minutes. Add the entire pea stock into this and cover and cook the mutton keema. Takes about 10 minutes.

Add the boiled peas, fried potatoes, little bit of water and 1.5 tbsp ketchup or any momo red chili sauce for a greater spunk.

Cover and let this all cook for another 5- 6 minutes. Uncover and add ¼ tsp Bengali garam masala, split green chilies and turn off the heat

Serve with chopped onion, green chillies chopped and chopped coriander leaves and squeeze lemon on top