The background to our Omelette Curry –
It is an uphill task to get an Omelette curry made at home . If I may say – this was the first time it got made at home by Madhushree. I have always loved eggs. Show me one Bengali who doesn't love Dim Bhaja? We don't have a recipe of Dim Bhaja in the blog and many a times, we have argued over this? Leave aside Dim Bhaja, there are many other dim or egg recipes in the blog which will be worth for a quick reference. There is a reason why I wrote Dimer dalna is a secured love affair. I was fascinated by the backstory of Kerala Egg roast and we also wrote about Dimer Kosha and Achari Anda.
So why was this not made at home then?
My love for Omelette curry is since childhood. This was a welcome alternate version of Dimer Dalna which Ma used to make. The family loved it and we even had it with Roti for dinners. A simple recipe which Ma adapted with long cuts of potatoes and fine slices of onions. The omelettes were made first – slightly thicker than the normal ones and that is the trick. Omelette curry calls for a thick omelette with multiple layers, so that in the curry they float around almost like larger versions of croutons. Ma always made perfect rectangular pieces and while serving, she divided them equally. 
The reason why never had this made at home is simple. Madhushree doesn't like it much. She felt an aanshte gondho or eggy smell if it is reaheated for a second time. Just after our marriage, when Ma used to visit us, she would cook Omelette curry. Newly wed bride Madhushree didn't say anything but later whenever I asked her, she cited this reason. Much later, after her life changing ailment, Ma was unable to go to the kitchen at all and could never cook.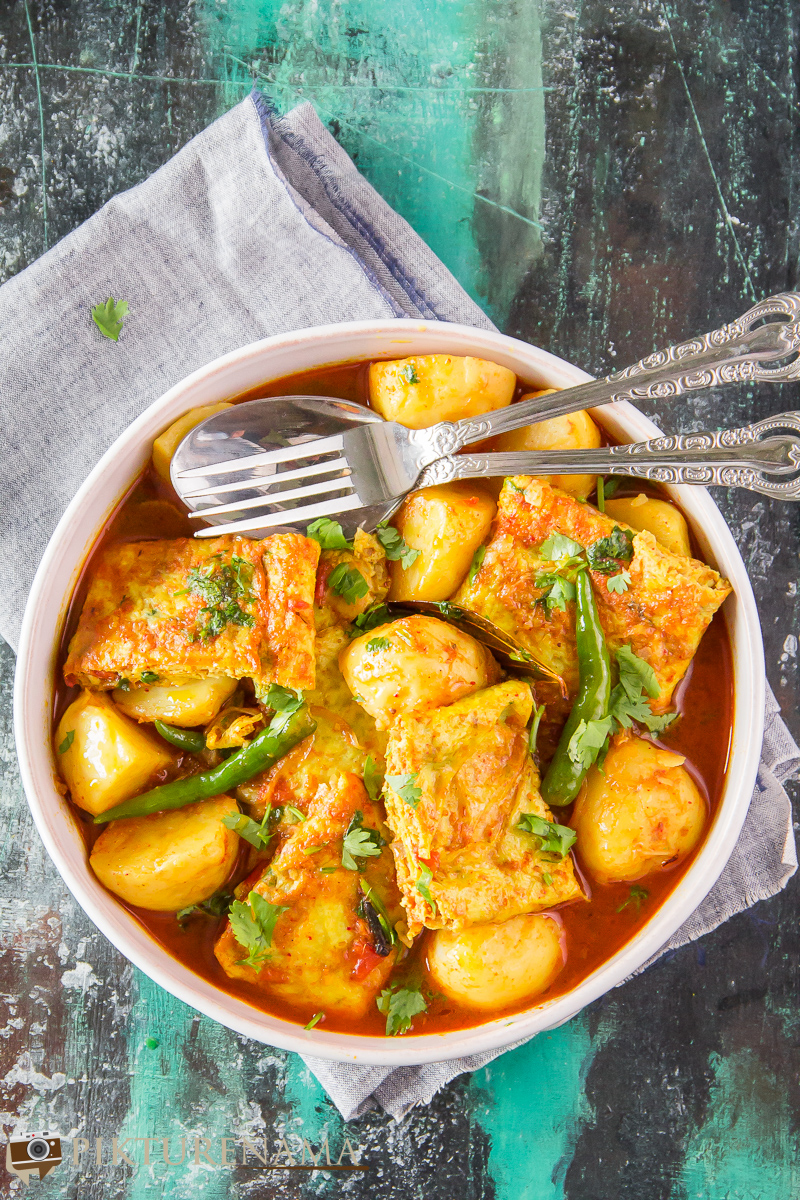 Kitchen utility and variations – Omelette Curry comes back in life
It's day 4 of lockdown under Corona virus.We live in uncertainty. When will Tugga's school reopen? He has not met his best friends for ages and they only do a video call with each other at times. Brishti, who just started her playschool, doesn't seem to miss her school though. Ma, who needs 24 hour attendant, also has her insecurity about future. Amidst all these, we found one crate of eggs spoilt, which was a dampener. The future of several industries and Travel and Food and Beverage in particular is uncertain. We all pray that we come of out of this stronger and more determined with minimum collateral damages. Human lives are more than collateral damages.
I was surprised when Madhushree made this. The potatoes were a different cut. The taste was slightly different. I cannot say what was different but I can say it was good but I couldn't find the smell of Ma. Ma is alive, we speak with her but has been sometime that I have tasted her food. I realised, I  won't taste her food again ever in life. I was smiling when Madhushree served the Omelette Curry as I was saying in my mind – Never say No, you don't know what life has in store for you. After the meal, I realised, I miss the normal active Ma and her Omelette Curry is definitely one of them.
Then I come to know about Ros Omelette 
Since you have come till this, I am sure you love eggs. Here are three more recipes which you cannot miss –
What makes a classic Dimer Dalna ? 
In case you want something different there is always Dim Kosha 
Kerala egg roast or Mutta Roast is always immersed in memories 

Serving Suggestions
Serve Bengali omelette curry with steamed rice. You can also have it with roti or phulka. 
Share your cooking with us
You can check out the detailed steps here – 
Are you following us on our youtube channel Cook with Pikturenama? Pls subscribe. 
Do try this recipe and share your feedback. You can reach out to us at our social media handles: Instagram, Facebook or any of our personal Facebook (Madhushree and Anindya) and twitter profiles. Post a picture and tag us.
Pin this for your recipe board ? You can follow us on Pikturenama recipes for more recipe ideas (Link)
Omelette Curry Bengali Way | Omelette er jhol
A light a flavourful curry made with omelette and potatoes
Ingredients
For Making Omelette
4

nos

eggs

1

no

onion

1- 2

no

green chilli

1- 2

tbsp

chopped coriander leaves

1- 1.5

tbsp

mustard oil

you can use any vegetable oil as well

salt to taste
For making the Curry
1

no

onion

1

no

tomato

3- 4

nos

potatoes

see notes

2

nos

dried bayleaf

3

nos

green cardamom

3

nos

cloves

1/2

inch

cinnamon stick

4- 5

green chillies

1

tsp

ginger paste

1

tsp

garlic paste

1/2

tsp

turmeric powder

1/2

tsp

red chilli powder

1

tsp

cumin powder

1

tsp

coriander powder

1/4

tsp

Bengali garam masala

see notes

1/2

tsp

sugar

2

tbsp

mustard oil

salt to taste

handful of chopped coriander leaves
Instructions
Making Omelette
Finely chop one onion, green chilli and coriander leaves.

Take 4 eggs in a bowl and add the chopped vegetables. Add salt and whisk for 2 minutes thoroughly.

In a frying pan, heat mustard oil. If you don't like mustard oil, use regular vegetable oil.

Pour half the whisked egg when the oil is hot. Spread around and cover and cook on medium heat till the omelette has set.

Fold the omelette and press it on the frying pan and then slide it out and keep aside. On the same pan, make the second omelette.

Once they are done, cut the omelettes into equal sized rectangular pieces and keep aside.
Making the Curry
Finely slice the onions and chop the tomatoes. Boil the potatoes, peel them and cut them into quarters or big chunky pieces.

In a kadai/ wok, heat mustard oil. Add dried bay leaf, cinnamon, cardamom, cloves and 1 - 2 green chillies. You can add chopped or whole green chillies, as per your tolerance of heat. Let them colour a bit and then add sliced onions.

Fry the onions over medium to high heat and when they are soft, add ginger paste and garlic paste. Fry on medium to high heat (without burning) till the raw smell goes away.

Add chopped tomatoes and stir fry on high heat. Add the dry spices one by one.

Spirnkle some warm water, so that the spices don't dry up. Cook till they start releasing oil and the tomatoes have become soft. Make sure to sprinkle water if it dried up.

Add the potatoes and coat them with the spices. Sprinkle sugar. Stir fry for half a minute and then add warm water.

You need to add as much water as if required to sink the potatoes in the gravy. However, it also depends on how much gravy you like.

Boil for 4 - 5 minutes on high heat. Then slice in the omelette pieces into the gravy.

Continue simmering till the omelette has soaked up some of the gravy.

Then add Bengali garam masala, a few slit green chillies and coriander leaves.

Check the seasoning and add salt if required.

Turn off the heat and serve omelette curry with steamed rice or roti.
Notes
There is no specific quantity of potato. You can use more or less as per your requirement.
Bengali garam masala is equal quantities of cinnamom, green cardamom and cloves powdered.