It's not necessary that all mutton recipes have to be rich. This particular recipe is as light as it goes. For us Bongs, after fish, mutton tops our list. And mangshor jhol is our absolute favourite. However, lately, this particular recipe of Peshawari Namkeen gosht has caught our fancy.
Peshawari Namkeen Gosht is also known as Namak Gosht 
Sometime last year, my cousin passed along this recipe from her Pakistani friend. She is an avid traveler owing to her profession of music. Albeit she meets with people from all across the world. Her Pakistani friend stays in Dubai and I believe she gathered this recipe from her. Knowing my enthusiasm for trying new recipes, she was excited to share the recipe with me. She called it Namak Gosht but seo suggested the use of Peshwari namkeen gosht.
Capture the essence of your cuisine with Pikturenama Studios' food photography.

BEHANCE
Peshawari Namkeen Gosht requires very few spices
The recipe is tomato-based but not with thick tomato gravy. It sort of reminds me of a lamb stew that I had at Istanbul. The only spice that goes into this flavourful dish is black pepper. Garlic gives the robust taste and green chilies give the oomph. Tomatoes thicken the gravy and a little bit of ginger gives that nice earthy hit. Coriander leaves are optional but I think it does give a good flavour to the dish. You can try Peshawari namkeen gosht with rice but it tastes the best with parathas or rotis. It does not have too much gravy but you can turn this into a stew by adding hot water. 
You can also try this terrific recipe of Majbous– A middle-eastern rice-based dish with mutton
Share your cooking with us
Are you following us on our youtube channel Cook with Pikturenama?
Do try this recipe and share your feedback. You can also reach out to us at our social media handles Instagram, Facebook or any of our personal Facebook (Madhushree & Anindya) & Twitter profiles. Please post a picture and tag us.
Pin this for your recipe board? You can follow us on Pikturenama recipes for more recipe ideas (Link)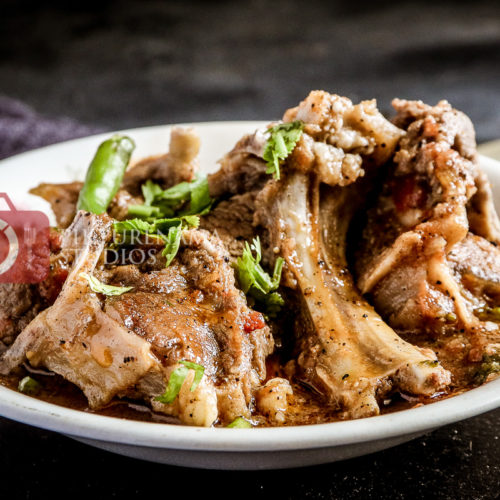 Peshawari Namkeen Gosht
Mutton cooked with tomatoes and black pepper originating from Peshawar in Pakistan.
Ingredients
1

kg

mutton

with bones

1.5

tbsp

garlic paste

1

tsp

ginger paste

2-3

tsp

black pepper

2-3

nos

green chilies

4-5

large

tomatoes

2

tbsp

butter

salt to taste

coriander leaves for garnish

optional
Instructions
To make this recipe, use absolutely fresh and good quality mutton.

In a kadai or frying pan, add butter and melt it.

Add the ginger garlic paste and stir fry for two minutes.

Then add the mutton pieces and stir fry over high heat to give it a little bit of colour.

Sprinkle some salt. Then cut the tomatoes into quarters and add to the mutton. Don't mix here.

Just cover and keep for five to ten minutes. Then remove the cover and take the tomatoes out with a spoon.

Remove the skin and put the tomatoes back into the kadai.

Give it a good stir now and cover and let the mutton cook on low heat.

From here, ideally and traditionally, you need to slow cook the mutton in the juices of the tomatoes. However, since I am always in a hurry, I like to add black pepper and half a cup of water and then transfer the contents to a pressure cooker.

Cook till the mutton has softened and then remove the lid. Add more black pepper, chopped green chilies and continue to boil. If you like a light stew, you can turn off the gas here and garnish with coriander leaves.

However, it tastes best when the excess liquid evaporates and fat starts to float on top. Garnish with coriander leaves.

This does not have too much gravy. Serve this with parathas.