Recently we had written about different kinds of chorchori on Instagram. It became a huge talking point on social media and everyone came out with their favourite chorchori recipes. One of them did point out that it was spelled incorrectly and that the right spelling would be 'chochhori'. It is the way it is pronounced in Bengali. And even though I agree a hundred percent, Google doesn't. Chorchori has a greater keyword search than chochhori. So here goes our post on Pui shaaker er chorchori.
Only I know how many minutes I spent deciding the various spelling combinations for this particular post. Should it begin with Malabar spinach or Pui shaak. Should it be pui shaak or shak or saag. Oh! It's like going down a rabbit hole of spelling combinations for Pui shaker chorchori.
You can check out our professional work portfolio here and our Behance profile here 
Savor the moment with Pikturenama Studios' stunning food photography. BEHANCE
Chorchori Chronicles on Instagram
What is it about this mish-mash of vegetables that is so loved by all Bongs and any non-Bong who has tasted it? But then. there are so many kinds of chorchori and it's not restricted to vegetables only. The broad definition is when more than one vegetable and/ or protein are stir-fried with different tempering, it is called chorchori. But why the name chochhori? Any ideas? Despite several comments, no one could come up with the reason. Here's the link to the post and you can learn about several more chorchoris on that – Link to Instagram
What goes into Pui Shaaker Chorchori?
The primary ingredient of this chorchori is Malabar Spinach. We use both the leaves and the tender shoots. Although the drumsticks from pui saag take a bit longer to cook, they are filled with flavour and nutrition. The second important ingredient is bori. These are urad dal vadis or dried lentil dumplings that are deep-fried and used to give texture and flavour to the food.
Other seasonal vegetables include brinjal, pumpkin and potatoes. You can add ridge gourd in summer, broad beans and sweet potato in winter too. The tempering is very simple- panchphoron and dried red chilies. Ginger paste plays a major role in the flavour. Freshly grated ginger gives it the necessary earthy aroma with a mild heat. Instead of ginger paste, you can also use mustard paste but not too much.
Serving Suggestions
Chorchori is typically served with steamed rice. Alternately, you can have it with roti or even luchi.
Share your cooking with us
Are you following us on our youtube channel Cook with Pikturenama? If not, then please subscribe. 
Do try this recipe and share your feedback. You can also reach out to us at our social media handles: Instagram, Facebook or any of our personal Facebook (Madhushree and Anindya) and Twitter profiles. Post a picture and tag us.
Pin this for your recipe board? You can follow us on Pikturenama recipes for more recipe ideas (Link)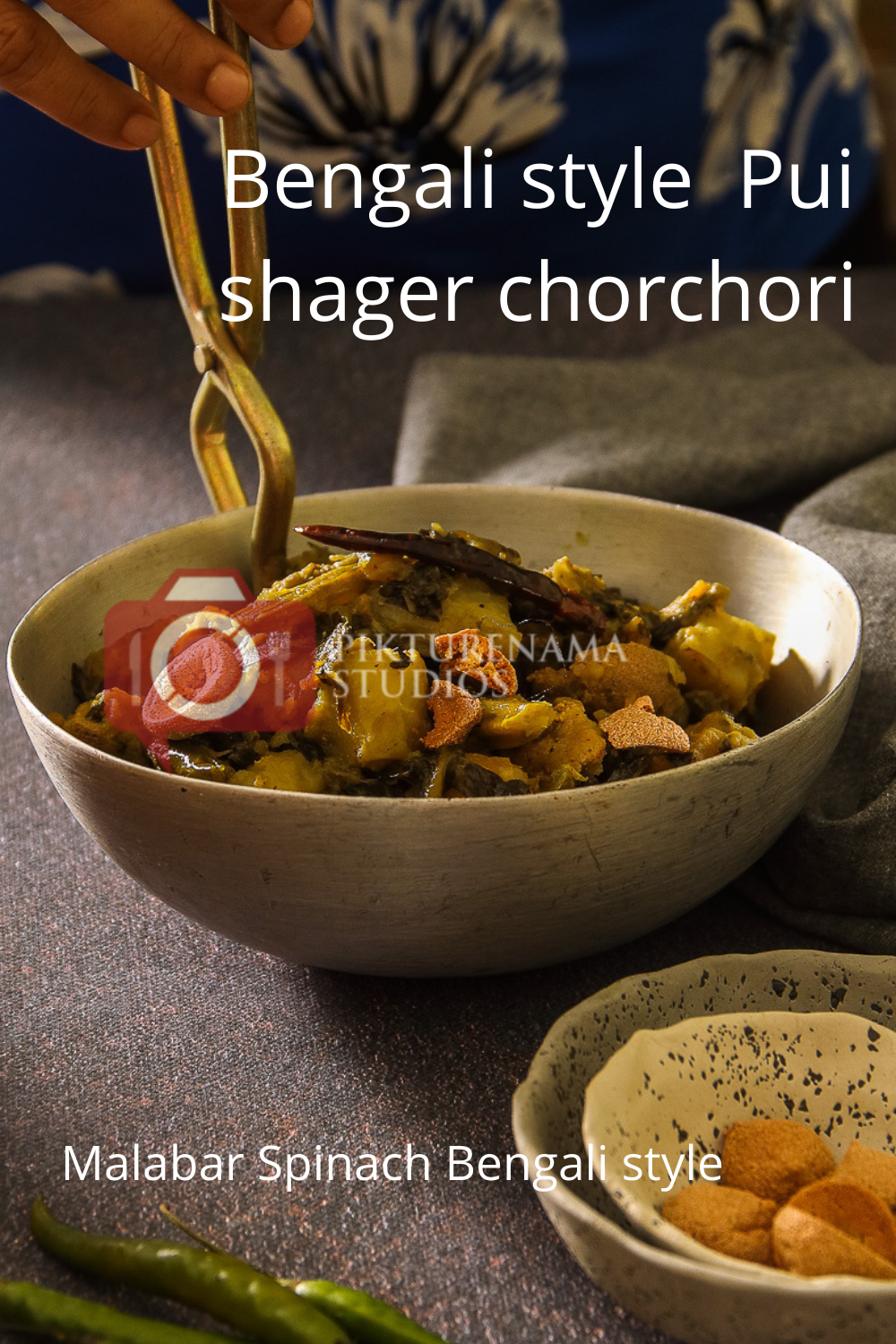 Pui Shaaker Chorchori | Pui Saag Chochhori
Malabar spinach and seasonal vegetable stir-fry
Ingredients
1

large

potato

1

medium-sized

brinjal

eggplant

1

medium-sized

radish

1

large

sweet potato

1

thick slice

pumpkin

1

bunch

Malabar spinach with the stem

8-10

nos

Urad Dal Bori

Vadi/ dried lentil dumpling

½

tsp

panchphoron

2

nos

dried red chilies

1

tsp

turmeric powder

½

tsp

sugar

1 ½

tsp

freshly grated ginger

3

tbsp

mustard oil

2-3

green chilies

salt to taste
Instructions
Peel the potato and sweet potato. Wash them under running water. Cut the potato into half lengthwise. Then cut each piece into four quarters. Keep the potatoes submerged in a bowl of water.

Cut the sweet potato into one-inch pieces and keep them submerged in a bowl of water.

Wash the brinjal under running water. Cut it lengthwise into 4 pieces and then cut each piece of one-inch cubes.

Peel off the pumpkin skin and cut it into one-inch cubes. Do the same with the radish.

Wash the Malabar spinach thoroughly under running water. Tear the leaves roughly or chop with a knife.

Cut the stems and shoots to two-inch length.

Take a large kadai or wok. Heat one tbsp mustard oil and fry the lentil dumplings (bori). They should be golden brown in colour. Take them out and drop half of them in a bowl of water and the other half, set aside.

Take 1 tbsp mustard oil and when it is hot, fry the brinjal pieces lightly and keep them aside.

In the same kadai, heat the rest of the mustard oil. Add dried red chilies and panchphoron.

When the panchphoron starts to splutter, add potatoes, sweet potato (without the water), the drumsticks (from the Malabar spinach) and radish. Fry these over high heat. I haven't added the pumpkin and brinjal since they cook faster.

Add salt and turmeric powder and stir for a couple of minutes. Then lower the heat and cover and let the vegetables cook in their own moisture.

Once in a while, remove the cover and stir. After ten minutes of cooking, add the pumpkin pieces. Stir and cover once more.

When the vegetables are cooked halfway, add the spinach leaves. If your brinjal is just fried lightly, then add to the vegetables. If they are fully cooked, then add in the end.

Sprinkle sugar and add freshly grated ginger. Also, when the vegetables are almost cooked, add the dried lentil bori that are soaked in water. Mix everything and over medium to high heat stir and cook the vegetables.

Once everything has come together, adjust the seasoning. Add split green chilies and break the lentils that were dry and add to the vegetables for a crunchy texture.

Mix everything thoroughly and serve with rice.