How did we first taste Shapla Chingri?
It will not be exaggerating to say that this is the invention of the season at our dinner table. The fact that water lilly stem could be used for a recipe and that too with small shrimps, was unimaginable. My mother in law first made this dish and once we tasted, we were sure this needs to be blogged. If the primary reason was the use of Prawn and that too shrimps, then the other reason was the use of Shapla or Water Lily stems.
Difference between Shapla and Lotus stems of Kashmir 
There is a high chance of confusing Shapla with Lotus stem, which is a staple in Kashmir. Shapla, is available in abundance, especially in rural Bengal and it has a great amount of popularity amongst villagers. Durga Puja has certain rituals associated with shapla. There is even a song dedicated towards it. Water lillies are used for the puja and during Durga Puja, shapla is easily available. This recipe was done one of those days around Durga Puja.
Water Lily stems have never been used as a cooking ingredient in my house while growing up. It was never used after marriage also, so this definitely came as a surprise. When I had written about Kumro Chingri, someone commented in facebook that she prefers Kumro potol diye chingri (pumpkin and pointed gourd with shrimps over anything else) and here we are. With so many recipes floating around in Social Media, I have not seen many recipes of Shapla chingri or anything cooked with Shapla.
The ghoti obsession with Ombol is evident from Begun Borir ombol tok . Do you know what's the meaning of Ombol? 
One of the best uses of fish head is in the Daal – Machher muro diye dal is an all time Bengali favourite 
Shapla Ombol and its tradition 
There is an experience, which pioneer of Bengali food writing, Ms Chitrita Banerjee has shared in her book Bengali Cooking – Once she had Shapla Ambol (Shapla cooked in Hot and Sour tamarind Sauce) cooked by the women of the house in a village which she was visiting. Later, that was used as an offering to Goddess Durga as a part of the send off meal. They believed that this would protect them from widowhood. Shapla Ambol along with Panta Bhaat or Fermented rice was a popular and inexpensive way out for the women of the house.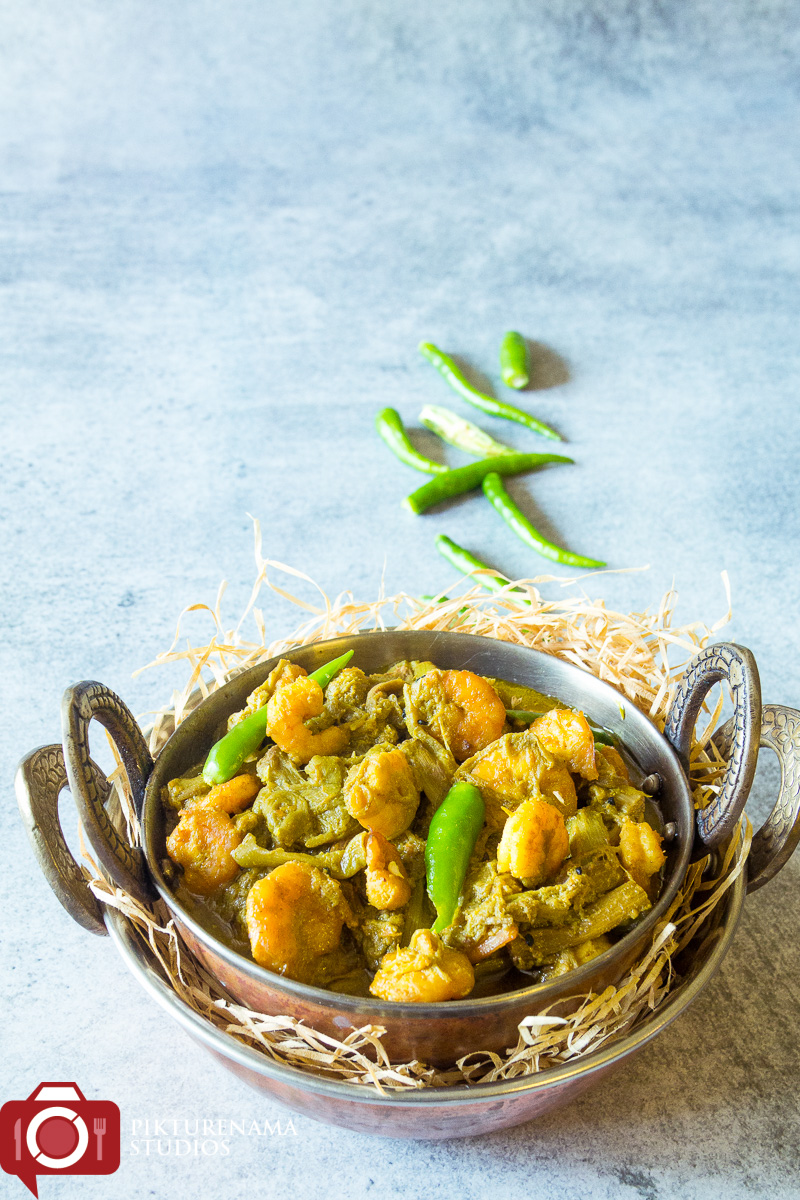 In case you need a voice for you pictures – please get in touch at www.pikturenamastudios.com
This struck me how food also teaches us that it does not matter what you offer to the Gods as long as you relate, pray and seek blessings from your God. It is known that Water lilies are used extensively used in Pujas but the stems as an offering in food? Not heard off.
When I first saw Shapla chingri, my reaction was – What is this? The fetish towards prawn and attraction towards shorshe (mustard) was enough motivation for me to stop. The chunky pieces of prawn along with slightly fibrous yet soft water lily stems led me to a second and third helping.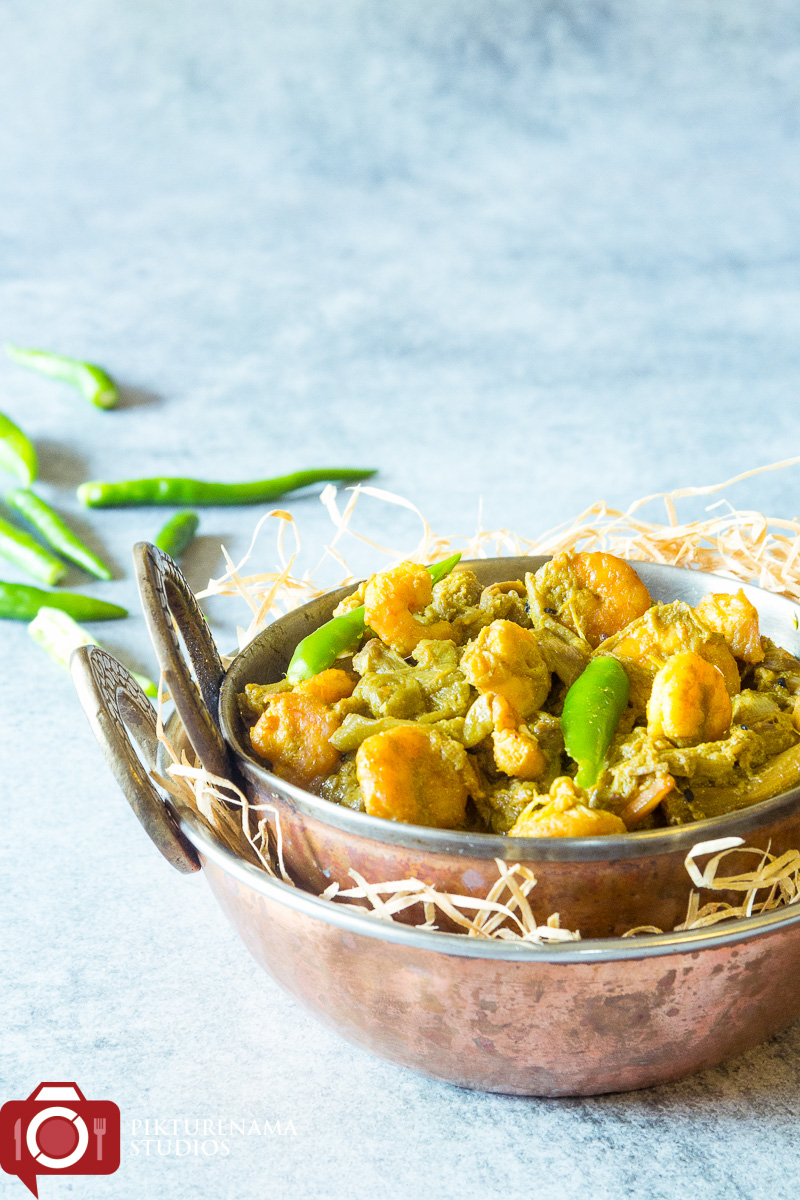 Are you following us on our youtube channel Cook with Pikturenama? Pls subscribe. Here is a video of the Shapla Chingri in the making – 
Do try this recipe and share your feedback. You can reach out to us at our social media handles: Instagram, Facebook or any of our personal Facebook (Madhushree and Anindya) and twitter profiles. Post a picture and tag us.
Pin this for your recipe board? You can follow us on Pikturenama recipes for more recipe ideas (Link)
Shapla Chingri the love for prawn continues
A typical Bengali recipe which uses mustard paste and water lily stems. It can be made with or without prawns. However, the use of prawns enhances the flavour of the dish.
Ingredients
800

gms

shapla or water lily stems

10-12 water lily stems

2

tbsp

Black Mustard Seeds

4

tbsp

Mustard Oil

and a little extra for drizzling in the end

250

gms

medium or small sized prawns

deshelled and deviened

1

tsp

Turmeric Powder

1

tsp

nigella seeds

2-4

green chilies

1/2

tsp

Sugar

salt as required
Instructions
Wash the prawns and marinade with little bit of salt and turmeric powder and keep aside.

Soak the mustard seeds in water for fifteen minutes. After that, gdiscard the water and grind it into a smooth paste with 1 tsp of mustard oil, 1 green chilli and a little bit of water. Strain the paste thoroughly using a little more water and keep aside.

Prepping the stems is time consuming and requires some patience. Firstly, cut and discard the flowers. Well, not exactly discard them but use them elsewhere in the house or even in making pakodas out of the petals.

From each stem, pull out the thin outer strips (more like a skin attached to the stem).

Then wash the stems thoroughly and drain them of any water, since they release a lot of water on cooking.

Cut the stems in 1 to 1/2 inch length.

In a saucepan, take 1/2 a litre of water with a tsp of salt and boil it. Once the water has boiled, add the stems and continue simmering for about 3 - 4 minutes. Then strain and keep the soft stems aside.

In a frying pan or kadai, take 1 tbsp of mustard oil and when it becomes hot, add the prawns and shallow fry them. It takes about 2 -3 minutes and using a spatula, take the prawns out and keep aside.

In the same pan, add 1 more tbsp of mustard oil. When it starts to smoke, reduce the heat and add nigella seeds and one split green chili.

Let the seeds splutter and then add the shapla and increase the temp. Add a little bit of salt and give it a stir. Then cover and lower the temperature and let it cook for 5 to 8 minutes until the shapla stems have become soft.

Remove the cover and add the mustard paste and continue cooking. The stems will release water, so keep the heat on high. Add the prawns and gently stir once.

Add sugar and check the salt.

Finally when the water has evaporated, add more split green chilies and drizzle some mustard oil. Stir everything together and cook for 5 - 8 minutes more. till it has become mushy but the stems are still whole.

Turn off the heat and serve it with some steamed rice.