Kolkata winter has become quite strange for the last couple of years. All of December, it is just pleasant barring the last week. It's almost like the weather wants us to enjoy Christmas and New Year's eve to the fullest. And then suddenly, it gets quite warm in the first week of January. Tugga asked me today if winter was over. It will suddenly get cold for a week during Makar Sankranti and then the mercury will rise slowly. The weather god does want us to enjoy Sankranti and all that comes with it. Soru chakli, notun gur, doodh puli, all kinds of pithe, puli, patishapta, and so on. It will start from Poush Sankranti and almost everyone continues making pithe puli till they have had enough. For us, it lasts till the end of January.
Check out Pikturenama Studios for Professional Food Photography
Soru Chakli is a recent addition to our Sankranti menu
You need to read my post on doodh puli to understand the significance of the paragraph heading. It was the first Sankranti after my grandmother passed away that I woke. For years, I let my mother and aunts carry on the tradition, taking it for granted that they will be there to feed us the astonishing array of pithe puli made during Sankranti. It's been a few years now that I am slowly picking up the recipes, learning them on hand with Ma or Kakima, and making them part of our home traditions. After all, it is all about creating memories for the future. And to read the Dudh puli post, you may follow the link here – Dudh Puli
It's only been a couple of winters that I am making shoru chakli at home. It's so soft and flavourful and a pleasant change from ruti torkari for breakfast in winter. The big plus is that it is well-loved by everyone. These soft crepes along with a bowl full of gold, I mean notun gur, are utterly divine. It's like feeding your inner child. The quality banter over the dining table on who's getting more gur and who's spilled a few drops on gur on the table while trying to eat, managing Brishti from climbing up on the table and Tugga drenching his long sleeve over the gur; so many lovable memories. 
How to make Shoru Chakli and how is it served?
Can you safely compare soru chakli pitha with dosa? Well, almost, except that there is no fermentation required for this. It is much like the French crepe without any AP flour. All you need to do is soak urad dal and rice separately overnight. The ratio of dal to rice is 1: 2. You have to use Gobindobhog rice for that beautiful mellow fragrance. The next morning, grind them into a fine paste with very little water, especially for the dal. And yes, you have to grind them separately for best results. Bring both the pastes together to make a batter. The only other flavour to this is fennel seeds. Crush a few fennel seeds in a mortar and pestle and add to the batter.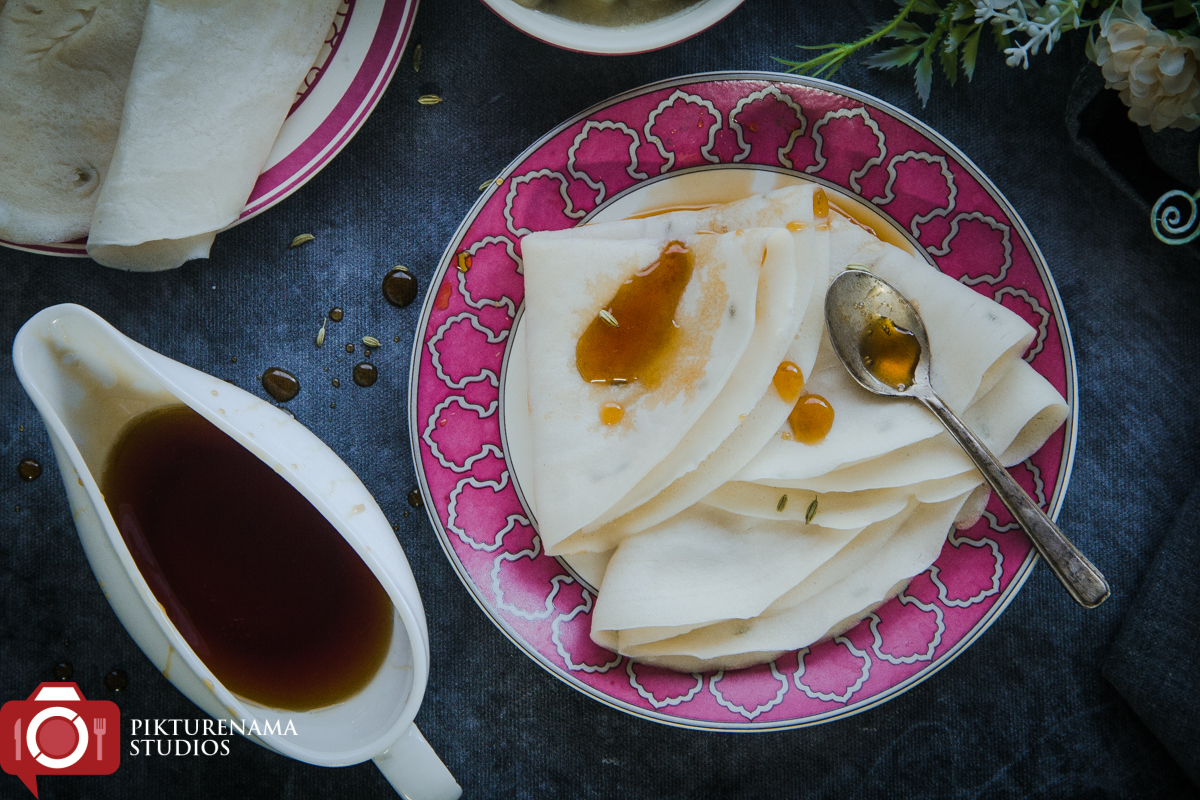 A little ghee goes into it and salt to taste. Whisk it well and the consistency should be like a crepe batter or a dosa batter. Brush ghee on a hot frying pan. An iron griddle gives great results but you can always do it on a non-stick frying pan. Pour a ladle full of batter on the pan and swirl it around. Spread the batter with the back of your ladle in a spiral circle. It should be spread thin. Cover and cook over low heat. Once cooked, slide it out on a plate. It should be soft in texture and not fried. You can serve soru chakli with some nolen gur or a shada alur chorchori on the side. Shada alur chorchori is a typical potato stew cooked without with turmeric powder and tempered with nigella seeds.
You can serve soru chakli with Nepali alu ko achar as well. It is a brilliant combination. 
Do try this recipe and share your feedback. You can reach out to us at our social media handles Instagram, Facebook or any of our personal Facebook (Madhushree and Anindya) and
Twitter

 profiles. Post a picture and tag us.
Pin this on your recipe board? You can find some awesome recipes at Pikturenama recipes in Pinterest
Soru Chakli | Shoru Chakli Pitha
It's a crepe made from Rice flour and urad dal and is typically had during Makar Sankranti.
Ingredients
1

cup

Gobindobhog rice

1/2

cup

Urad Dal

husked black gram

1.5

tsp

fennel seeds

3

tsp

ghee

salt to taste
Instructions
Soak Urad dal and rice separately in water and keep overnight. In the morning, grind the dal first with little water and keep in a mixing bowl. Now grind the rice with little water and add to the dal paste.

Don't try to grind them together because the consistency is different and it takes longer to do it.

Add fennel seeds (you can smash them a bit in a mortar and pestle for more flavour), 1 tsp ghee and salt to taste.

Add just very little water and whisk. Add as much water as is required for a thin batter but it should coat the back of a spoon, like a dosa batter or crepe batter.

Take a frying pan or an iron griddle and heat it. Brush little ghee and then pour a ladle full of batter on that. Spread it either by swirling the pan or with the back of the ladle. Spread it thin and lower the heat.

Cover and cook. It takes a couple of minutes (depending on the thickness) for the batter to cook. It should not be fried. It should ideally be a soft crepe kind of texture.

Once it is cooked through, slide it onto a plate and fold.

Serve it with nolen gur and some vegetables on the side. It could be any side of potatoes.