Bhai Phonta comes right after Kali Puja. It's the day when sisters put a 'phonta' or a tilak of chandan on their brother's forehead and bless them if they are older and seek their blessings if the brother is older. It's Bhai-Dooj for North Indians. In Bengal, Rakshabandhan isn't that big but bhai-phonta is a gala affair. Often, 2- 3 different sets of brothers and sisters come together in one household to celebrate it. Plenty of food gets cooked and the ceremony includes serving a plateful of different kinds of mishti. Sweet shops in every locality bring out their best mishti and you will find people queueing up to buy them. Let's have a look at our 10 bhai phonta recipes to impress your brother.
You can get the vegetable chop in any local sweet shop but the homemade one is better than all. Loaded with beetroot, carrots, green peas, fried coconuts, peanuts and raisins, this is a medley of texture and flavour. Bhaja Moshla plays a key role in vegetable chop.
The ever-popular luchi with cholar is easy to make and a great way to start a feast after the phonta ceremony. Chana dal cooked without onion and garlic with a beautiful fragrance of Bengali garam masala is a sure-shot winner.
Our food photography will leave your customers hungry for more.

Behance
Any Bengali traditional fare is incomplete without having one dish made with potatoes. It doesn't take too long to cook this but is rich and delicious and pairs well with luchi or teen kona porota.
This is a Bengali cauliflower roast where you don't actually need a grill or an oven. It's rice, and textured with cauliflower and sometimes green peas. Cumin and ginger are the ruling flavours and are a total crowd-pleaser.
This is the most common pulaos in Bengali cuisine. Also known as mishti pulao or holud pulao, this is made with Gobindobhog rice, garam masala and ghee.
Do something different with prawns rather than doing a chingri malaikari or a shorshe bhapa chingri. Use fragrant winter cauliflower and cook it with fresh tiger prawns with a simple cumin-based gravy.
If at all you want to make malaikari, how about trying it out with Bhetki mach or any other white fish? Bengali garam masala and ghee blended with coconut milk and green chillies is a beautiful way to begin your non-vegetarian fare.
Chicken cooked with poppy seed and green chilli paste with copious amounts of mustard oil, what's not to like about it? You can serve this with luchi or steamed rice.
How can you have a feast without mutton? And a simple mangshor jhol is all that you need. You can pair it with luchi, porota or rice, works with all.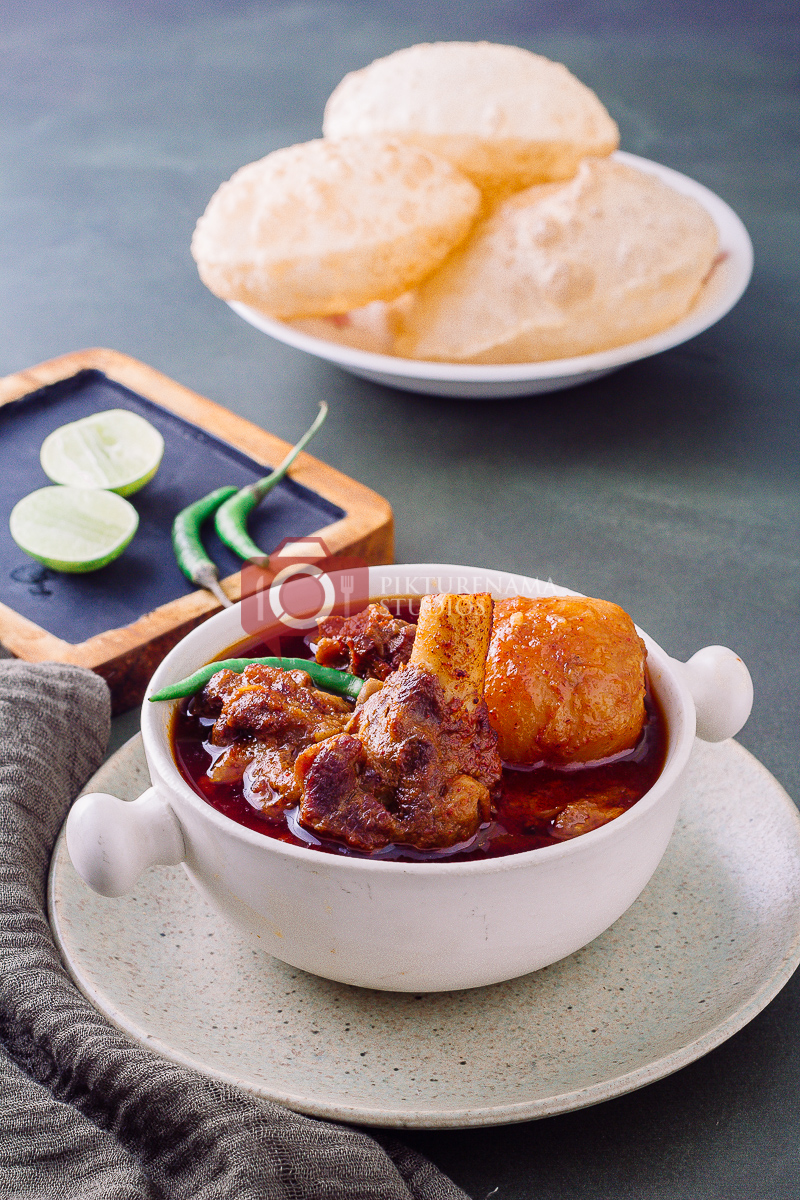 Yes, you can buy a whole lot of mishti from your local mishtir dokan but making bhapa doi at home is taking it to another level. A very simple recipe of steamed yoghurt that tastes almost like mishti doi, is a must-try
Are you following us on our youtube channel Cook with Pikturenama?
Do try this recipe and share your feedback. You can also reach out to us at our social media handles Instagram, Facebook or any of our personal Facebook (Madhushree & Anindya) & Twitter profiles. Please post a picture and tag us.
Pin this for your recipe board. You can follow us on Pikturenama recipes for more recipe ideas (Link)