There are spice mixes and then there are the great ones. Bhaja Masala is one such magical ingredient in Bengali cuisine. We don't call it masala definitely. It is bhaja moshla for us. It's strange, how this one ingredient is part of every Bengali kitchen. Some make it on their own, nowadays you get them in the supermarket as well. My mother uses it, all my aunts too and my grandmother used too. However, my brain always associates bhaja masala to one of my aunts. Perhaps that's because I spent a considerable time of my teenage years (when I started developing interest in cooking) with her.
Mishtikakima, as I call her, would always have a jar of freshly ground bhaja masala in her pantry. If it was alur dom, she would sprinkle some generously in the end. That alur dom would be sans onions, garlic and coriander leaves. She would say that bhaja moshla has such a beautiful fragrance, you don't want to kill it or overpower it with any other strong ingredient.
For Professional Food Photography contact us
Bhaja Masala or Bhaja Moshla has two or three different recipes
There are several recipes to bhaja masala. The easiest and the most widely used one is just with coriander seeds, cumin seeds and dried red chilies. It's simple, not too many flavours and does the work. However, with a few more ingredients, the flavour profile changes dramatically. The bhaja moshla made at our place also has dried bayleaf, fenugreek seeds and fennel seeds in addition to the three above. There are some recipes which also include cloves and cinnamon. My chotokakima says that when you add cloves and cinnamon, it sort of gives you a garam masala flavour. And I kind of agree to that. Let's keep the flavours different.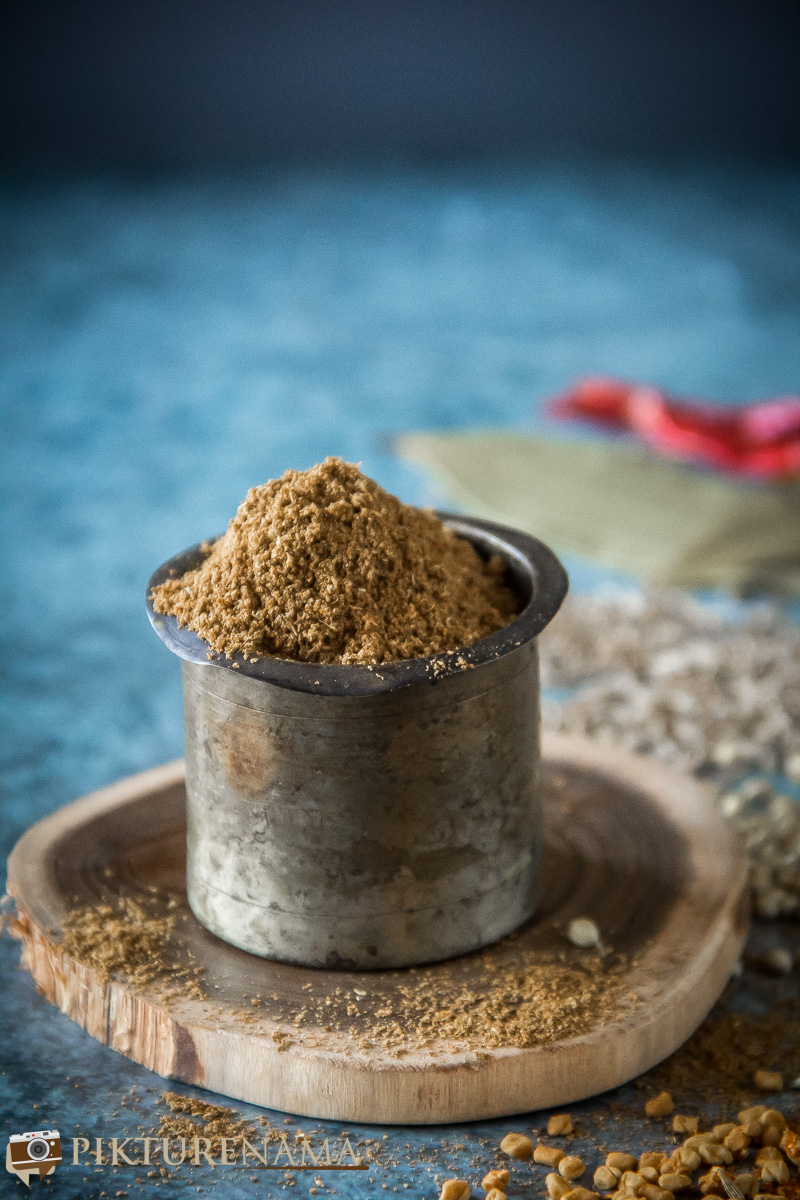 Bhaja Moshla is used in many recipes and with a bit of caution too
Having praised all about this magical ingredient, let me tell you, if you use too much of it, the food becomes bitter. Also, this is used to finish a dish or to use as a flavour in a cutlet. Bhaja moshla is used as a prime ingredient for aam pora shorbot or a doi er ghol (Bengali lassi). It is also used as a flavouring agent for alu tikkis, phulkopir cutlet, chhanar cutlet, more or less most vegetarian cutlets or chops where garam masala is not used. You can sprinkle this on dahi vadas and they just taste so good.
For Professional Food Photography contact us
How to Make it
All you have to do is one by one add the spices on a hot iron griddle or a frying pan and dry roast the spices till they are a beautiful golden brown. The kitchen, literally is filled with a bouquet of fragrance from the different spices. The colour of bhaja moshla differs because of roasting time. A dark roast will give you a darker spice blend. However, it is advisable to not dark roast it too much. beyond a point, it becomes bitter. Once the spices cool down, grind to a fine powder.
Here are our three favourite dish which you can make with Bhaja Masala 
You can try out Phulkopir cutlet , Alu Tokri chat or Dahi Bhalla using this Bhaja Masala 
Storing Bhaja Masala
You need an airtight container to store bhaja moshla. In a dry climate, it stays for 6 to 8 months in an airtight container, along with the rest of your spices. In a humid climate like ours, it stays for 3 – 4 months at room temperature, along with the rest of your spices.
Here is the recipe of Bhaja Masala as we incuded a video for your convenience – 
You can check our youtube channel for some more cooking videos . Please show some love there.
Do try this recipe and share your feedback. You can reach out to us at our social media handles: Instagram, Facebook or any of our personal Facebook (Madhushree and Anindya) and twitter profiles. Post a picture and tag us.
Pin this for your recipe board ? You can follow us on Pikturenama recipes for more recipe ideas (Link)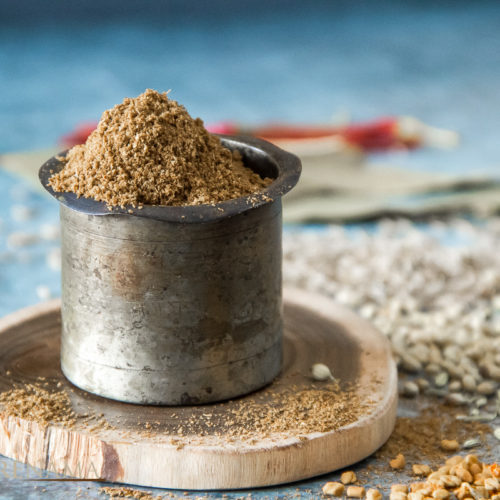 Bhaja Masala | Bhaja Moshla | Bengali Roasted Spice mix
This is a blend of different spices which are roasted and then ground to a fine powder. It has a multipurpose in Bengali cuisine.
Ingredients
2

tbsp

Cumin Seeds

whole jeera

2

tbsp

Coriander seeds

whole dhania

2

tsp

fennel seeds

whole saunf

4 -5

nos

fenugreek seeds

whole methi

1

no

dried red chili

2

nos

dried bayleaf
Instructions
Take an iron griddle, tawa or frying pan and place on the gas. At a high flame, when the tawa is hot, add the dried bayleaf and the dried red chilli.

In a few seconds, start adding the rest of the spices and turn the heat to medium low.

Roast all the spices till you have a nice golden brown colour and then take them out in a plate to cool down.

Once cool, grind to a fine powder in a blender jar.

Store in an airtight container and keep at room temperature.